Need to contact us quickly? Send us an email by Clicking Here.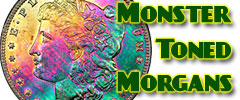 View the largest gallery of high-end and Monster rainbow toned Morgan dollars, an informational guide on how to tell natural vs. artificial toning, learn to price toned Morgans, view auction results of rainbow Morgans, and view what characteristics to look for in high-end toned rainbow Morgan dollars.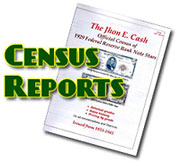 Lost? Find your way with the sitemap with links to all the pages on this website. Sitemap



Here you can find interesting articles, videos, and research tools for coins and currency. We are constantly adding more links and articles to enlighten collectors. Click Here


Click here for a how-to guide for JhonECash.com. The site is very user friendly and you may not even need to use this page but if you do, it's right here waiting for you.


Click Here for answers to ALL of your questions regarding Payment, Shipping, How to Order, How to Use the Website, and More...




7/19/2010: RV Day 40 Sunday Pigeon Forge, Tennessee

Miles Driven: 0

RV Day 40 Sunday Pigeon Forge, Tennessee I looked at the clock beside the bed and it said 9:58. I had never slept this late. We had one hour to get out of this crappy KOA and find a new spot for the next five days. Our friends in Newton Grove NC, Scott and Laura had told us about this RV Park called Clabough RV Campsite. They had just left there a day earlier and really liked it. Tonya called them and they said if we got there quickly they had us a spot until Friday Morning. Youíve never seen this family pack so fast. Everything was flying around as we stuffed everything into the back bed room. Jonathan unhooked in record time. We were driving out of this KOA within 20 minutes headed 4 miles away to hopefully a nice spot for the next 4 to 5 days. We finally lucked out for once. We got there and this lady was so nice to work with. She gave us a couple of sites to choose from. We picked site D2 and it was a real nice and shady corner site. It was perfect! Lots of shady mature trees and a big corner spot. We quickly unloaded everything we had and set up camp. Jonathan and Tonya hung up our big round ball lights on the awning; I laid out all our large ground carpets and chairs and put the radio out. We finally get to use all this equipment we have been hauling all over the US for 40 days. I got the fire pit going so Tonya could later on cook with layer tonight. We finally looked like full time professional campers. This place had several pools and what is called a ďLazy RiverĒ pool with tubes. Tonya and the kids went out to the lazy River while I put up a tie down for the awning and hung a clothes line for the wet clothes. Most of the campers around us were in small old run down 5th wheels with a thousand small kids running all over the place. Most were from Kentucky and the surrounding states. The Adams family from Huck Tennessee was right across from us with their small dilapidated white 5th wheel lit up like a Christmas tree in summer. They had 8 or 10 kids sleeping in this small camper. Wet towels covered most of their camper with fold out chairs covering the rest of their small space. Iím guessing it was a family gathering. The only adults I saw were what looked like a grandma and grandpa. Anyway this was really a nice large size campsite with over 363 sites. There was a small creek right next to our corner site. Occasionally a family of ducks with the mother and 5 or 6 tiny baby ducks leading the way would come by on their way to somewhere. There were many different families of ducks everywhere. The kids really enjoyed this. It was overall really relaxing day as we needed this because tomorrow we were doing Dollywood for two days. For those of you who donít know what Dollywood is Iíll try to explain what you can expect as we try to come here every year? Dollywood is a 150 acre theme park co owned by singer Dolly Parton and is located 5 miles from Gatlinburg nested in at the foothills of the Smoky Mountains. They have over 3,000 employees and host over 2.5 million guests a year. The park first opened in 1961 as a small tourist attraction by the Robins brothers from Blowing Rock, NC named "Rebel Railroad", featuring a steam train, general store, blacksmith shop, and saloon. The park was modeled after their first successful theme park Tweetsie in Blowing Rock. In 1970, Rebel Railroad was renamed "Goldrush Junction" when it was bought by Art Modell, who also owned the Cleveland Browns football team. In 1976, Jack and Pete Herschend bought Goldrush Junction and renamed it "Goldrush" for the 1976 season. But in 1977, they renamed it "Silver Dollar City Tennessee" as a sister park to their original Silver Dollar City near Branson, Missouri. In 1986, Dolly Parton became a co-owner, and the park was renamed "Dollywood". Dollywood is celebrating her 25 anniversary this season as owner of Dollywood. We try to come here just about every years as it is small enough to get around and large enough to have a lot of really good rides. I love the location. Back to reality, as it started to get dark the many campfires appeared around the campground as families were preparing dinners for the evening. Tonya decided to grill beef fajitas with bell peppers and onions on the hot coals over the open fire pit. She also prepared spicy rice with a nice cheese concaso dip. It was wonderful as usual. We all sat around and watched TV as we had a great dinner again. We want to get everyone to bed early as tomorrow is going to be an early day to hit Dollywood. Well its midnight and we are watching Camp Rock, the movie. So much for the early night! The weather channel says its 50% chance of thunderstorms tonight. If it rains tomorrow we may hold off and go on Tuesday and Wednesday. Weíll see tonight. So as Day 40 goes into the books as another fine day to be on the road, I wish all of you a happy Sunday. Until tomorrow my friends, sleep well tonight.


---
7/19/2010: RV Day 41 Monday Dollywood, Tennessee #2

Miles Driven: 0

RV Day 41 Monday Dollywood, Tennessee #2 At 1:30am this morning a big thunderstorm came through Pigeon Forge and it rained hard as you could hear the big rain drops hitting the top of the RV. It made for good sound sleeping but that is not what I wanted to hear. Since it rained hard and late I let everyone sleep in as I knew that we would not be doing Dollywood today. I got up early anyway and went outside with a cup of coffee and sat under the awning while it rained. My web footed friends loved this rainy weather as you could see all the families of mother ducks with their many ducklings making the daily pilgrimage across the RV site on to where ever it is they go. I could see many campers with their umbrellas walking to the showers or bathrooms with gear in hand. I just got a cool phone call from a gentleman named Nick Baker. He was the gentleman whose truck caught fire near Spearfish South Dakota. He wanted to thank me for giving the volunteer fireman the fire extinguisher who attempted put out the fire on his truck and the adjourning fields. He offered to send me a new fire extinguisher, but I declined as he was very sick and headed to the hospital for some operation. I could tell by his voice the he sounded ill and was in bad spirits. He lost everything in the fire, including his old truck. I felt real sorry for his loss. I had already replaced our fire extinguisher anyway. I told him he could repay me by helping someone else out who needed it. I just rented a rent-a-wreck for 4 days to be able to get around Pigeon Forge and Gatlinburg. It is an old 2002 White Ford Taurus with 79,157 miles on it. It looks good for its age, which sounds like a guy talking about a new girlfriend. Anyway that is about the only car rental place around here with anything that is somewhat new. At least we will have transportation to go to Dollywood, Gatlinburg and drive through the Great Smokey Mountain National Park. The skies have cleared up so maybe it will be nice for the rest of the day. The family is ready to go do something so I need to go. Tonya informs me that our friends from NC found us a place at Emerald isle, NC for a week on the beach. We will be meeting them next week, maybe. You know how quick things change around here. We headed to Gatlinburg for the day as Dollywood was out because of rain. We stopped off at Hardeeís Hamburgers for lunch. The family had never eaten or heard of Hardeeís before. They loved the food taste and the place. We enjoyed the nice but brief ride to Gatlinburg. After we parked by the Space Needle we started walking the streets. This place was absolutely packed and it was hopping! After hours of walking through most of the shops buying all kinds of stuff we decided to ride the new ride, ďEarthquakeĒ. What a bust it was for the price as it only lasted for a couple of minutes. We then rode the overhead cable cars to the top of the mountain. I always enjoy the ride as its relaxing. We took more photos at the top and started back down. After stopping at every Air Soft Gun shop in Gatlinburg Jonathan finally decided on an M-16 Model and a 44 caliber pistol. There were hundreds of Air Soft shops. Whatís up with that, guns for kids is hot! Anyway it was late and the sky was getting dark and cloudy and it was starting to thunder with lightening. We ran back to the rent-a-wreck and drove back to the RV just as it started to rain again. It was now 10pm and time for bed for the kids. Gatlinburg was fun as always, but expensive. The prices on almost everything were much higher than last time we were here. Gatlinburg is a small town 6 miles from pigeon Forge to the south. It is in The Smoky Mountain national park. Its main business is tourism and has a large and diverse variety of shops, motels and attractions. Gatlinburg is a cool place to visit and browse the many restaurants and shops. Well itís late and time to end another pleasurable day on the road. Tomorrow itís Dollywood, rain or shine. So until tomorrow, sleep well my friends.


---
7/18/2010: RV Day 39 Saturday Benton Indiana to Pigeon Forge, Tenn.

Miles Driven: 437

RV Day 39 Saturday Benton Indiana to Pigeon Forge, Tenn. Today was a good day so far as I got up at 6:30, went outside with my coffee to do my daily travel blog. I noticed on the map that we were going to go through Paducah, Kentucky today. When I was in the Marine Corp from 1969 to 1975 I was stationed at Camp Lejune North Carolina for a while. While I was there I had a friend Walter K. Shupe from Paducah who now lives in Fancy Farms Kentucky. On weekends at Camp Lejune you could stand in a parking lot under individual state flags and people would come by that was traveling to that state and ask you if you wanted a ride. You were expected to help with the gas money for a ride. You could ďswoopĒ a ride with them for gas money. You would agree when you would be returning and arrange a place to meet on the way back to base. It was a realm popular way for young marines to get a ride home on weekends. After all, we did not have a lot of money back in those days. I did this many times going to New York and various other states with friends. I rode with Walter Shupe to his home town of Paducah, Kentucky a couple of times. I had not seen him since 1971 or 1972. On a hunch I googled his name and found him in Fancy Farms Kentucky. I called him this morning at 7:30 guessing it was him as there were several Walter Shupeís. It was right on as I hit the right one the first time. I donít always get so lucky, unless itís a slot machine. We talked about an hour visiting about old times from almost 40 years ago while we were young and in the Corps, which was by the way the last time we saw each other. As soon as he answered the phone I knew it was him right away as his voice had that Kentucky drawl which had not changed a lick. Imagine two old men trying to remember what they did 40 years ago on a momentís notice. Hell I canít remember what I did yesterday, thatís why I write it down. However Waltersís memory had not faded one bit as he knew exactly what we did when I visited him and his mom in Paducah 40 years ago. It must be that good living and a tad bit of good ole Kentucky moonshine. It was great visiting with him and reminiscing, as I sit here in a RV park in Benton Indiana on a park bench outside of my RV listening to the many sounds of crickets in heat. Walter, if you read this blog, Semper Fi my friend and may god be with you and your family. Its 9:00am now and I wanted to get an early start so we could reach Nashville, Tennessee today so I must go pull back the shades in the RV, and let the sunshine wake them up. It takes about an hour to get everyone going and another hour to get the RV ready to travel. So much for an early start today! We got another late start but when we got on the road I decided to try to make it all the way to Pigeon Forge Tennessee so we wouldnít have to tear down and set up again. It was a long 450 mile drive but I was ready to get somewhere permanent for a few days and settle down. This cross country coast to coast trip was tiring me and the kids as well. I put the pedal to the medal and set the cruise control on 75pmh and sat back. We had just got a full tank of gas before we left Benton, Indiana at Wal-Mart. We would connect to 24South in a few miles and take it all the way through Nashville where we would connect to 40East to Knoxville. From there we would hit 66South a few miles outside Knoxville all the way into Pigeon Forge, Tennessee. We would camp at the KOA at the entrance of Dollywood. We had camped there several years ago and the trolleys took us straight into Dollywood. As I was booking on down the road I noticed the hills getting bigger and greener as we passed over the Ohio River on into Paducah, Kentucky. The Ohio River separates the states of Illinois and Kentucky. Kentucky has always been one of my favorite states to travel in as everything is always so green and beautiful. As we hit Paducah we veered to the east crossing over the fabulous Tennessee River towards Hopkinsville. The stunning drive through Kentucky was much too short as we hit the Tennessee line and continued on to Nashville, the Country Music capital of the world. The two lane road on 24South was well paved with not one problem. Unlike Iowa they had money to spend on road repairs. It was good to get back to the dark green color of thick trees that lined both sides of the road and as far as you could see up and over the small hills. It was pretty much an uneventful drive as the kids were preoccupied with their video games and Tonya was busy building her farm on Farmersville, a game that she plays inters actively on her iphone which is connected to her face book account. Itís something about getting a farm, growing crops and selling them to your neighbors for cash so you can expand your farm. She spends a lot of time tending to her crops. If it keeps her busy, so be it. On these long drives there is not a whole lot for anyone else to do except the driver. The exception is when we enter big cities and I need directions if we are changing routes. That is where the navigator comes in. It can be boring at times, but you do have to get from point A to point B somehow. I was making good time as the traffic was light and there was not much of an incline or decline in the road. Just outside Nashville I stopped at a rest stop to stretch out and clean the bugs off the windows. We were going to lose an hour at Knoxville as that is where the Eastern Time zone begins. I wanted to get to our site before dark so I wouldnít have to park this rig in the dark. Most RV mishaps happen in the dark while trying to back into tight sites. Trees seem to come out of nowhere and bite you when youíre not looking. Nashville is a beautiful city with a rich old historical heritage. It displays a proud skyline that can be seen for miles. As I viewed the city of Nashville in my rear view mirror I tried to imagine the scene on December 15th 1864 as the Union and Confederate forces began the Battle of Nashville. The outnumbered Army of Tennessee Confederate forces were badly beaten in heavy fighting in the City of Nashville and retreated south of the Tennessee River. Although Tennessee was the last state to join the Confederacy on June 24th, 1861, the city of Nashville became the first Capital to fall to Union forces. Tennessee was actually a part of North Carolina until 1796 when it was ceded to the Federal Government and immediately admitted to the union as the state of Tennessee. Nashville was once a city in North Carolina and the city of Nashville was a city before Tennessee was a State. Thatís pretty interesting and somewhat odd. Knoxville which was Tennesseeís first state capital until 1819 is the second oldest city in Tennessee behind only Nashville by seven years. It is the third largest city in population behind Nashville and Memphis. The 184 mile drive to Knoxville was a breeze. Light traffic allowed me to maintain my fast pace of trying to reach my goal of arriving at the Dollywood entrance before dark. Once we reached Knoxville I pulled over to get gas and stretch out. This rig rides like a champ but is sucks up the fuel. We immediately headed back out on 40East towards 66South into Sevierville, the small city right above Pigeon Forge. It was a quick and short drive to Pigeon Forge and we found ourselves on Pigeon Forges only main drive by 7:00pm. It took us an hour to drive the small distance to Dollywood Lane because it was a Saturday Night and everyone was out to go dining or visit the hundreds of attractions located on both sides of the road. It was like a small Las Vegas without the casinos. There is only one road through Pigeon Forge and our number three turn was the other end towards Gatlinburg. As we drove ever so slowly it was like everyone was out looking at everyone else looking at them and everyone was waiting for something to happen. There are literally hundreds of small motels, go cart tracks, sideshows, musical houses, magician shops, oddity museums, specialty shops, a variety of ethnic diners and many more types of shops you would typically find at a destination city such as this. After we finally made our turn we drove up to the KOA to check in. What a disaster. This lady told us to got o space nine and back in and she said it might be tight. Tonya and I went to the spot, looked at each other and walked back to the office. Now Iíve had this rig all over these United States and been in tight place that I never thought I could get into, but this space was absolutely not going to happen. There was no way I was going to be able to go around this real tight corner with trees and other cars and trucks and motor homes parked the way they were. She says to me, ďwell weíve had other 40 foot trailers up there beforeĒ. I told her that may be the case when you are empty and itís a fifth wheel trailer not a 40 foot motor home. So now she gives us a space for a one night stay and says sheís full. Why didnít she tells us that when we first booked the 5 days. She knew we had a 40 foot motor home. Now Iím really pissed as I jut drove 450 miles so we would not have to move again for 5 nights. Now I have to find a place for tomorrow and move again. I hate this KOA and the people that run it. This is our second time we had a bad experience with this place. So now Tonya and I are very angry as we go to this one night spot to park our RV for the night. This space she gave us was once again not designed for a 40 foot triple slide out motor home. We had to get the help of many campers to help us get into this tight space. It took half an hour and 5 tries before we finally got it in a very tight space. Our neighbor on the right side had to pull in his slide out so we could squeeze by into our spot. Itís now very late and we are all hungry and very tired and now we have to go find another spot for the next five days. The whole idea of driving all day to get here was so we wouldnít have to do this extra set up and tear down. I do not recommend this KOA for anyone coming to Dollywood as these people are just plain stupid and simply donít care. Later that night I spoke to several other campers who told me of other people who tore up their motor homes trying to park in spaces that their rigs were not designed for. The people in the office need to be properly trained and actually go out and see the damn spaces BEFORE they rent them to unsuspecting people. Anyway itís very late and we need to get the kids bathed and feed. Tomorrow is going to be another interesting day. So until tomorrow, sleep well my friends.


---
7/16/2010: Day 38 Friday St Louis KOA to Benton, Illinois KOA

Miles Driven: 135

Day 38 Friday St Louis KOA to Benton, Illinois KOA I got up at 6:30 feeling really rested. I went outside with my computer and coffee to do this blog and map out our travels for today. The weather was nice but muggy and humid. The flies are horrible around here as they are hungry. No one is up as of yet and itís quiet and peaceful. I have our game plan done for todayís travel so I think I will wake the family up early so we can get a fast start. As we end our 38th day on the road tonight we will have been in or passed through 18 states traveled just shy of 7,000 miles, camped in almost 30 different campsites, passed through numerous National Forest, visited numerous National Monuments followed the complete Lewis and Clark expedition backwards from Astoria Oregon to St Louis Missouri and crossed over a dozen mountain ranges and just about most of the major rivers west of the Mississippi. And we still have over three weeks to go! We finally got on the road at 10:30 and headed up 44South towards downtown St Louis. Nathan kept telling us he wanted to see the Gateway Arches of St Louis. So I decided to take him downtown St Louis so he could get a picture of the Arches. As I maneuvered my way downtown on 44South with Tonyaís help we pulled up and parked nearby where the tour busses park. We got out and took our pictures and decided to see if there was a place so we could park the RV and walk the grounds of the Gateway Arches. So I headed out and turned right and headed around the corner of the Gateway Arch Park toward the Mississippi River on the north side of the Arch Park. As I made the turn I noticed the low bridge ahead and I was worried about the ability to turnaround so I stopped a Bicycle Cop who was riding by and he informed us that the Mississippi River was flooded and the streets ahead were blocked off because they were underwater. We were stuck as we could not go forward and we had already made the turn. The Cop and Tonya had to go out into the main traffic behind me and stop all cars while they both helped me back up around the corner. After I backed up and headed in the right direction I came across another bridge on the left going into the downtown area that I could not go under so I had to turn right and cross the bridge over the Mississippi River into Indiana. Once we got there I found a open field, turned around and headed back over the Mississippi River determined to find a parking spot large enough for this RV. I noticed one of the parking lots at Bush Stadium Baseball Park, home of the St Louis Baseball Cardinals was half empty. I pulled in and took up two parking spots. I decided that we went to this much trouble to get here we were going to go and take a ride to the top of the Gateway Arches. We all got ready and hiked the four blocks to the gateway Arches. I didnít know it but underneath the Gateway Arch is a gigantic museum and gift shop as well as two cable cars that took you to the top of the Arch, one at each end of the Arch. We had to go through a security check, the same type as you see at all airports. Afterwards we got into this very large line to buy tickets to take the ride to the top of the Arch. We bought our tickets at 12:30 for a 2:35 ride. Since we had two hours to burn we toured the largest and most interactive museum Iíve been to outside the Smithsonian Museum in Washington DC. We then went outside to a street vendor down by the Mississippi River and had lunch under a tree. The whole area along the river was underwater and the Riverboat Rides were shutdown. We then went inside to get in line for our 4 minute ride to the top of the Gateway Arch. The very top of the Arch is 630 feet tall and the base between the two is also 630 feet apart. The Gateway Arch was constructed between 1963 to 1965. The first year it was open you had to walk the 1,071 steps to get to the top. Now the cable cars get you there in 4 minutes. The cable car that took us to the top consisted of 8 connected carts that hold 5 people each. When our turn came to go up, all five of us get into this very tight and small enclosed white tub with small seats. It sort of swung like a Ferris wheel ride. The door opening into this small cart was 4 Ĺ feet tall by 2 Ĺ feet wide. There was no head room or elbow room inside. The inside looked exactly like a large basket tub you see inside a washing machine or dryer. If your cloister phobic youíre in big trouble as it was very small and tight. On the four minute ride to the top you can look out the small door window and see the steel girders and concrete inside guts of the Arches. You could also see the old cement stairs that went to the top. Jonathan was a bit nervous as the tub moved around as we made our way around the curves of the Arch to the top. Once we got to the top you could look out these very small glass windows and see all of the downtown of St Louis on one side and the Mississippi River below and the Casino Queen Casino across the Mississippi River in Illinois on the other side. We could actually see our RV in the parking lot of Bush Stadium sitting all by itself. It looked so small in the distant. There was not much room at the top and the ceiling was low. It was cool looking down to the ground 630 feet below knowing there is not much between you and the ground. We hung around at the top for about 20 to 25 minutes, took a lot of pictures and headed back down to the underground museum. We bought a few souvenirs and headed back to the parking lot of Bush stadium to get our RV. As it turns out the St Louis Cardinals are playing the Las Angeles Dodgers at 7:30 tonight and hundreds of people were heading to the Ball Park and the parking lot is starting to fill up around our RV. We decide to get out of town while we can so we left and headed out to 64South during the rush hour. It was 5:30 and a wasted traveling day so I tried to get us reservations at a few nearby Casinosí that I knew very well. Everything everywhere was booked as there was some type of Race in town along with the Cardinals playing at home. So we headed out of town towards Mt Vernon, Indiana 81 miles away. At Mt Vernon we took 57South towards the city Benson Illinois to a KOA Park that Tonya had pre booked. It was a nice KOA with a lot of shade trees, a playground, a swimming pool and most of all, cable TV. The kids and Tonya went out to play and swim and I stayed back and did this blog. When they returned Tonya ordered Pizza Hut and they delivered it right to our RV. Now you know youíre back in civilization when they deliver pizza to you RV. Although we wasted a travel day it was well worth it to go to the top of the famous St Louis Gateway Arch with the family. Tonya and the kids absolutely loved it as I did. It was different. We might never get another chance to do this as a family. Our new game plan is to go to Dollywood in Tennessee first since we are going that way first anyway. We are two days away and should be there Sunday night or Monday morning. After Dollywood we are headed somewhere to the beach for a week, I think. Itís late and the kids are watching cable TV and were about to call it another night. So until tomorrow, sleep well my friends.


---
7/16/2010: Day 37 Thursday Kansas City to St Louis , MO KOA

Miles Driven: 243

Day 37 Thursday Kansas City St Louis KOA The reason I always request cable at these campsites is because I can see what the weather is going to be for the next day. Last night when I went to bed at midnight there were stars in the shy and no clouds. It was very muggy, but beautiful skies. It rained and thundered all last night. I had left our rugs, chairs, tablecloths and some clothes and towels out last night to dry in the morning sun. Now everything is totally muddy and soaked. Way to go Jhon! We left the K.C. KOA at 11:45am and headed to get fuel across the street. Tonya gives me wrong directions on where to turn and we ended up headed back toward KC for 5 miles till we could turn around and come back another 5 miles to where we originally started. Afterwards we waited almost an hour at a Truck wash to get out RV professionally washed and cleaned. It was worth the wait as it was really filthy and somewhat embarrassing to pull into a town or campground. Then we headed across the bridge to the Awful Waffle or commonly referred to as the Waffle House for breakfast or lunch or both. By the time we left Kansas City it was 2:00pm. We were not going to go far today as St Louis is only 254 miles or about 4 Ĺ hours down 70east. The first 100 miles was easy but for some reason I felt really tired and my eyes hurt real bad. I guess the sleep deprivation was catching up to me. Just past Columbia I pulled into a roadside rest stop off the hwy to take a 10 to 15 minute break and stretch out. As I was relaxing I mentioned that my back really hurt from sitting so much over the last 37 days and over 6,500 miles. Jonathan mentions that Tonya should drive for awhile. Not a good idea. Tonya drove the RV two years ago for about 50-60 miles on a straight road. As the kids start raging and kidding her she was now determined to show them she could do it. I told her I was fine now that she didnít have to drive. She insisted, mostly to get the kids off her butt. I told her I would sit in the front seat to assist her. We were about 80 miles from St Louis and we were headed to a KOA in Northwest St Louis. When we got near St Louis she was to wake me and I would get us to through the ST Louis traffic to the north side KOA. No big deal as the road was nice and there was not much traffic going into ST Louis. She told me to go take a nap she would be fine. I sat in the front seat for about 20 minutes to make sure she was Ok and stayed on the road. She drove about 55 to 60 MPH and stayed pretty much in the right lane which was perfect. Then I went back to take a short nap while Jonathan sat in the front seat as navigator to guide her to the campground in case she decided NOT to wake me. I told her when she got close to St Louis to wake me and I would take over as traffic would be horrible and tight. I donít know how long I was asleep when Nathan woke me and saidĒ, Daddy, Mommy need you, sheís lostĒ. How could she be lost all she had to do was stay on 70East. When I got up front her and Jonathan we yelling at each other about where to turn. I couldnít understand either one of them as they were both talking so loud. Tonya was telling Jonathan; the new Navigator that he gave her wrong directions and Jonathan telling her he knows how to read a stupid map. As I came half awake up to the front to this loud conversation, Tonya yelled something to me about telling her where to turn. Not knowing exactly where we were I said pull off at the next exit and Iíll take over. She somehow was on 270south going in the completely wrong direction. For some unknown reason she had exited on the St Louis 270South loop around the city or exit 228 going south not north. We never made it into St Louis! I said Tonya your exit was 193 for the campground to the north. She and Jonathan had been arguing for an additional 35 exits or 35 miles on which way to go. Thatís about 40 minutes of going at it. Now just when did she realize that she passed her exit at 193? They had got their campgrounds mixed up somehow. Anyway as I took over the driving and Tonya got back as the Navigator we finally got turned around in the wrong direction and headed back 30 miles the other direction to a city called Eureka, Missouri. She had me turn back west on 44west off the 270South loop going back the direction from which we just came. Try to go figure that one out! We had to break out ďMary our GPSĒ to figure out exactly where we were. I pulled off the highway for about 15 minutes to get a bearing. We ended up in the Eureka KOA at the entrance of Six Flags Amusement Park. We had just completed a 60 mile wrong direction fubar. That with the morning mix-up put us about 70 plus miles off course for the day. We ended up camping at the wrong end of town. I really did appreciate her giving me a break from the driving but I think from here on Iíll do the driving and Tonya will do what she does well, give good directions. That has been the most successful combination so far. Or if she does decide to drive again Iíll do the navigation. Anyway we did find a fairly nice KOA, albeit a little out of our way. It all worked out as the kids had time to go swimming and Tonya did a couple loads of laundry and I got a beer and did this blog. The drive itself was OK as the road condition was wonderful. Naturally there were a lot of large estate ranches with their massive acreage as well as smaller farms which you could view off the freeway. Ta lot of trees with a lot of green. There is a lot of history in Missouri from the Lewis and Clark expedition to the Civil War battles. Although there were many historical sites to see we were not going to drive way off the road to see them. We mostly need a place to stop for a couple of days to rest as we have put a lot of miles behind us in a short time. The KOA we accidentally choose was near the entrance of the Six Flags Amusement Park. I donít know where it is or how we got here as we were lost when we stumbled upon this place. But it worked out nicely. Later that night Madelyn and I went out to chase fire flies or lightening bugs in the open fields. We finally captured one and she named it, ďlight onĒ. How original was that? She put it down and ran back to the RV when she said it peed on her. After that we all had a nutritious meal of hot dogs and chips and watched the movie Our Gang and relaxed for the day. As of right now we havenít book a spot at Myrtle Beach South Carolina as everything is book up. We waited too late to get a desirable spot. Iím not sure where we will end up on the beach. Tomorrow we are headed to Nashville Tennessee, I think. My game plan is to hit Hwy 64East from St Louis to Mt Vernon, Illinois then cut down to Hwy 57South to where it splits and take the 24South Hwy through Paducah, Kentucky, crossing the Tennessee River on into Nashville, Tennessee. Itís about a 350 mile drive. It might take longer if we cross any mountains. Itís only Friday and we want to be on the beach somewhere in North or South Carolina on Monday night. So we should have plenty of time to get there, as long as I do the driving. We will play it by ear as we have all along. No big deal! Until tomorrow, sleep well my friends. I know I will tonight.


---
7/15/2010: RV Wednesday Day 36 Sioux Falls to Kansas City, MO

Miles Driven: 406

RV Wednesday Day 36 Sioux Falls to Kansas City, MO Sorry about not posting blogs earlier this week but we have had very little internet service the last 4 or 5 days at the Mt Rushmore KOA and until now. Now that we are in major areas headed east I should have no problems posting daily, if time allows. We left the Sioux Falls, South Dakota KOA and caught Hwy 29 South through Iowa and Missouri headed to Kansas City, Missouri. I had to stop off at a Post office to mail some checks to Brandon as he made some major coin purchases. I will tell you this 29 south through Iowa was not a good idea as most of the two lane road was under construction and reduced to one lane. It was road construction after road construction with no chance of making up driving time. If the drive would have been scenic that would have been OK. Mr. Obama definitely needs to send some serious road funds to Iowa as the road was terrible and beat up with lots of bumps and no shoulder to pull off on in case of an emergency. The part of the road that wasnít under construction should have been. We saw absolutely nothing but corn fields with sporadic small farmhouses back off the roads. Not much for scenery this time but we have traveled Iowa before and it is a beautiful state, just not on this road. The high crosswinds were very strong and moved our RV around like a ragdoll. With the high crosswinds and the road being under construction for most of the way it made for a long and somewhat boring drive. We averaged about 40 to 45 mph through the state. We followed the Missouri River along the state line of Iowa and Nebraska down through Sioux City where we stopped for gas and our daily Wal-Mart visit. I did notice the price of diesel fuel drop in price down to $2.81 at Wal-Martís Murphyís gas station. What a relief as Iíve been paying as high as $3.41 on the west coast. Two years ago when we made the trip on the west coast up Hwy 1 and 101 I paid as much as $5.44 in California. As we headed on down to Council Bluff, Iowa we cut across the Missouri River and toured the city of Omaha, Nebraska. That is a beautiful City as it stands out from afar and actually sitís upon a hill as you can see it from miles away. Other than that the drive through Iowa wasnít much to see as it was pretty much flat with cornfields, cornfields and more cornfields. You might say it was a corny state. As we crossed over into Missouri the road was perfect the rest of the way with not one construction project going on. I guess their Congressmen and Senators have more pull with Obama than those in Iowa. The scenery actually changed and you could see the hills on our left with the Missouri River on our right side. You couldnít see the river but you could tell it was nearby as it everything was very green. I did notice that there were a lot of flooded cornfields that had turned brown and died. It looked like the remnants of a flood. We made up some time as the road was not a problem at all. We decided to stay in St Joseph for the night, park early and let the kids out of their cages to play and swim. On long drives they get a little antsy riding for hours. We noticed that there were limited campgrounds in Northern Missouri. Tonya found only a couple of sights to camp in from our RV book so she decided on one called A-OK campground just north of St Joseph, Missouri. No KOAís were available where we were headed. You have to understand these RV books donít always show or tell you the whole story about the campground. KOA is like a McDonalds fast food restaurant, they are not always the best around, but you know what you are getting, a clean, safe and somewhat nice campground. Well we got off the freeway turned left as instructed and headed to the beautiful A-OK campground. As soon as I pulled into this long dirt road headed to this A-OK place I knew this was not right. The dirt or small gravel road was very small, narrow and not big enough for two autosís to pass and it was up and down a large bumpy hill. Tall cornfields lined both sides of the road. I wondered how many big rigs went down this scary road. As we passed over the last rocky hill we saw some Mobile Homes on the left with a small sign posted on a tree that said, ďOffice this wayĒ pointing to the left. On the right side of the road across from this campground was a extra large tall cornfield. Iím thinking ďChildren of the CornĒ all over again. As we turned left looking for the office there was a small portable shed with both its doors wide open with the words, OfficeĒ painted on it. Next to the small brown shed was parked an old mobile home on cinder blocks with trash spewed all around it. No one was around while we sat there and viewed the campground. It was full of old mobile homes on dirt roads with a small old swing set and a filthy pool up on a hill. Yes they did have a playground and a pool as advertised. Tonya and I looked at each other and heard the kids yelled out from the side windows ďDad letís get out of hereĒ. I immediately drove down the bumpy dirt hill through the campsite looking for an exit to return to the dirt road from which we came. As we pulled down the hill and turned right through the deadly silent park I noticed that and old unshaven man had came out from the broken down mobile home next to the ďOffice ShedĒ pulling up a pair of overalls with no shirt on and one strap hanging down his front. He walk out front and just stood there with his arms on his hips in disgust angrily staring right at us while we slowly drove through his dump eagerly searching the hills trying to find an exit, any exit. He must have been thinking, ďDamn, five good potential victims just got away while I was on the damn toiletĒ. Mommaís gonna beat my ass for letting them get away. I never saw one living person walking around while we were there. Not even a dog. They were all probably locked away somewhere underground screaming and begging for help. It was not a pretty sight as this man continued glaring at us with his arms now folded as we continued to drive through his crappy domain. We finally found an uphill exit right, drove toward the tall wavering cornfields and slowly commenced the drive back down the dirt road to the interstate past him once again. He never moved or took his eyes off us. I swear as I passed the cornfields I heard voice singing voices coming from the otherwise eerie silent cornfields that were gently waving in the wind. The old man was still just standing there in his overalls arms now crossed as we silently drove passed him on the way out of this potential hell hole. Somehow I donít think we were the only ones to experience this, but we were lucky enough to get outÖalive! I still wonder he hid the RVísÖmaybe they were in the tall cornfields! We got back on 29South, thankful to be alive and headed south into Kansas City about an hourís drive away. We hit Kansas City from the north side in rush hour traffic looking for 70East towards St Louis. The drive was slow as most of the downtown roads were major under construction and detours were everywhere. Tonya had found a KOA on the east side of the city on exit 28. The roads were very narrow with concrete construction blocks on both sides of the roads which made for very intense and slow driving in a RV. It took us about another hour to get through the city to our campsite on the east side of the city. This KOA was very nice with full hookups, but no cable. All I ever want is cable so I can watch the news and weather. The check-in lady was nice and put us up front right next to the pool in F-12. Not bad, I kind of liked this place; at least it was clean and safe and a KOA. Nathan and I went to the pool to check the water temperature and it was perfect. I went back to change into my swimsuit. Jonathan and Madelyn were playing on their video games and Tonya was preparing spicy chicken conqueso wrapped in foil with brown rice on an open campfire. I went swimming with Nathan for about an hour till Tonya announced that dinner was ready. The dinner was wonderful and perfect. The chicken was precut into small pieces, with a little salsa added and it was just what the doctor ordered. Everyone was quite hungry after a long drive and ate heartedly. Later that night we watched Night at the Museum, Part Two and Flushed Away. Unless you have kids youíve probably never heard of half the movies we watch. Iíve seen all of them many times over. Around midnight everyone was in bed for the night. So once again, until tomorrow my friends, sleep well.


---
7/15/2010: RV Day 35 Tuesday Mt Rushmore to Sioux Falls, SD KOA

Miles Driven: 378

RV Day 35 Tuesday Mt Rushmore to Sioux Falls, SD KOA It was a sunny and hot morning as I got up late for our long drive across South Dakota. It was hard for the kids to leave this place as it was the best and largest KOA weíve ever seen or been to. There are so many activities with so many people that it almost seems like a campers Disneyland. This is a destination campground that people book a year in advance and stay a week or two. We tried to book a few more days but naturally they were full so we had no choice but to move on down the road to our next spot. We left late as the kids wanted one more shot at putt-putt and the giant slide. We ended up leaving the campground at 11:45am. We once again drove through the Black Hills National Forest on 16 toward Rapid City where we got on 90E towards Sioux Falls which was about 350 miles away. We actually lot an hour as we passed into the Central Time Zone. The highlights of the day were not much. Crossing the Missouri River in Oacoma that Lewis and Clark took on their 1804 expedition and passing the Corn Palace was about it. The landscape was pretty much flat with a lot of green rolling hills. On these open flatlands you have to be careful of high winds. Youíll be driving down the road and everything seems fine and then out of nowhere the high sudden winds hit you and you veer off the road. It happens frequently. I have to constantly keep both hands on the wheel. Like I said, there is not much to report on this long 8 hour drive. The kids hate this type of drive as there isnít a lot for them to do. We did stop off in Mitchell for fuel and another visit to Wal-Mart for supplies. We intended on staying in Mitchell at the KOA but they were booked so we moved on to Sioux Falls, the last major city in South Dakota. Tonya really wanted to visit the famous large Corn Palace in Mitchell, but there was no place to stay. The Corn palace is a large palace built entirely from corn stalks. We arrived at our KOA in Sioux Falls late and checked in just as the Baseball All Star game was on. This KOA was a dump as it was intended as an overnight stay only. After the KOA in Mt Rushmore/Hill City it is going to be hard for the kids to get use to any of the other KOAís. The only drawback to the KOA in Mt Rushmore is that we had no phone service or internet connection. Even as we drove down the road on 90E to Sioux Falls we had limited service. Tomorrow we say good-Bye to the windy and boring flatlands of South Dakota and head into Iowa and beyond. Until tomorrow, sleep well my friends.


---
7/15/2010: RV Day 34 Monday Mt Rushmore KOA

Miles Driven: 0

RV Day 34 Monday Mt Rushmore KOA As I walked outside this morning I was surprised to see the sun up as it had been raining so much lately. The clouds move in so fast and leave so fast itís hard to predict the weather. Nathan and I went up and played putt-putt golf for awhile and then headed for the giant water slide. The water was just too cold for me, so I watched. This KOA is situated up against the Black Hill Mountains with the tall pines clinging to the sided all the way to the top. We are at the bottom in a small valley between two large hills. Since it has been raining the dirt roads through the camp are muddy. This morning a lady came by as I was having coffee and ask if we had been to Custer State park last night. Custer is located about 9 miles south. She said they got hit with a fast moving storm last evening with winds up to 50 miles per hour. It hailed so hard and fast that people didnít have a chance to get to their RV and put down their awnings. There was reportedly three inches of hail still on the ground 4 hours later. Many of the vehicles and RVís had major hail damage from the fast moving storm. Once again we missed disaster by a few miles. The weather here is very strange. Iím not sure what we are doing today as the kids want to hang around and play here at the KOA. We have the rent-a-wreck until 10:30 tonight. The kids and I decided to hang around this massive KOA and play putt-putt golf, volleyball, basketball, ride the giant slide and use the swimming pool. Tonya decided she didnít want to hang around with us so she took the rent-a-wreck and took off to go explore the Black Hills by herself to see the some of the local sites. This KOA is probably the largest KOA we have ever seen. This is definitely the place to be if you are camping in this area. There is lot of activities for every one of all ages to do. Once again we tried to extend our stay but all 563 sites were already booked. Mt Rushmore is nine miles away with the Crazy House Monument just a tad bit further. Deadwood is 41 miles away and Sturgis about 5 additional miles away. If you like casinos, they are everywhere. The Sturgis motor cycle rally is coming soon from July 31st to August 8th. You still have all the Black Hills and the Badlands National Forest to see as well. I could see staying here for a week to ten days on our next visit. We all pretty much played games with all the kids at the campground until they closed it down at 10:00. Then like everyone else we went back to our RV, campers or tents for the evening. Until tomorrow my friends, sleep well.


---
7/12/2010: RV Day 33 Sunday Mt Rushmore KOA

Miles Driven: 0

RV Day 33 Sunday Mt Rushmore KOA I got up at 7:30 and went outside to a cold rainy day. It rained all last night and it was colder than I care to mention. What is it with all this weather? I want to go to the beach! Today we are supposed to go to Deadwood and hang out. We passed through Deadwood 2 years ago in the RV. I really wanted to visit the town and browse around. There is a lot of History in deadwood. Deadwood South Dakota was founded in the 1870ís and the city sits in the Black Hills Mountains. In 1874, Colonel George Armstrong Custer led an expedition into the Black Hills, which was actually treated to the Lakota Indians, and announced the discovery of gold on French Creek near present-day Custer, South Dakota. Custers announcement triggered the Black Hills Gold Rush and gave rise to the lawless town of Deadwood, which quickly reached a population of around 5,000. Tonya drove the 45 miles north through the Black Hills National Forest to the city of Deadwood in our newly rented 1997 Blue Dodge Caravan. For $75 per day, I was promised a Lexus Van but instead we got a 1997 piece of crap Rent-A-Wreck. What a rip-off but they were the only game in town if you want a rent car. Although this place is kid friendly, I really donít care for this place at all. Everything at this KOA is vastly overpriced and the employees are out to take advantage of it. The city of deadwood has done a great job of maintaining the original structures to make it look exactly like it did in the 1870ís. There are many 1870ís saloons with gambling and poker rooms with the same names they had back in the original city of the 1870ís. The city looked just like a movie stage for an old western movie. We visited the exact spot where Wild Bill Hickok was shot and killed on August 2nd 1876 and the spot where his assassin Jack McCall was captured. They had historical markets on the sidewalks. Jack McCall was later convicted of shooting Wild Bill in the back holding the famous ďDead Manís handĒ of aces over deuces with a nine kicker. Jack McCall was captured a few minutes after shooting Will Bill Hickok down the street. He was later convicted of murder in a second trial and hanged on March 1st 1877. Wild Bill Hickok was buried in boot hill outside Deadwood. 17 years later and old friend of his, Calamity Jane was buried next to him. We stopped and had lunch at the Old Stockade Saloon which had been there since 1877. After we ordered lunch I went outside to smoke a cigarette and noticed a gaming saloon next door called Wild Bills gaming saloon. I went in to smoke a cigarette and casually put $10 in a 3 coin $1 slot machine. On the 3rd pull I hit a $686 jackpot. I immediately cashed out and went back next door for lunch with the family. I wasnít gone 4 minutes and make $686. Not bad for a $10 bet. I gave all the kids $50 each to spend and we all went shopping. We hung around for about 3 hours visiting all the old time tourist stores. Before we left they put on an old western shoot out in the streets with cowboys wearing costumes and side arms from the 1870ís. It was a cool but short show. We then headed back in our rent-a-wreak to visit a Mistletoe Christmas Ornament store for Tonya. It started a real bad rain storm that lasted through the rest of the day. As it got dark, a real thick heavy fog rolled into the campgrounds off the nearby hills. You could barely see the RVís nearby. The kids were pretty much stuck in the RV because of the lightening. We all sat around, watched a dozen movies (since we had no cable) and crashed for the night. There is once again rain scheduled for tomorrow. Tomorrow we are scheduled to once again go visit the partially finished Crazy Horse Monument, Mt Rushmore and tour the Needles and Badlands National Parks. So once again, until tomorrow, sleep well my friends.


---
7/11/2010: RV Day 30 Thursday Missoula to Billings, MT

Miles Driven: 352

RV Day 30 Thursday Missoula to Billings, MT Happy Birthday Tonya! It is a heck of a place to be on your Birthday, but I could think of a few worse places to be. Also Iíd like to wish Donnie Otwell, my brother-in-law in Dallas, Texas a Happy Birthday as well. I got up late this fine warm day as I think the two Bacardi and Cokes last night helped me sleep well. No big deal, were in Montana and there is nowhere to go but Montana. Today we are headed to Billings, MT which is about 350 miles away down 90E. So far Montana has been a very surprisingly nice drive. Big Mountains in the distance, small mountains up real close, rivers alongside the road and lots of tall pine trees is pretty much what you see as you truck along 90E towards Billings. There were several real large mountains on the right side of the road but Tonya couldnít identify them. I think one of them was Mt Hoggins, 10,607, and Mt Warren, 10,463 elevations. I know we are at the north end of Yellowstone National Park. We camped up at Three Forks RV Park two years ago which is right at the north entrance of Yellowstone. I sort of wanted to visit Yellowstone, but I didnít want to do it in a day. We will come back another time and go in the south end when we can spend more time there. I think you need at least a week to do it right. We passed the Continental Divide right after we passed through Butte, Montana. This was the Bitterroot National Forest and the Bitterroot Mountains were to our left. Now the water is flowing our way to the east. Further down we entered the beautiful Deer Lodge National Forest, where Mt Warren is Located and straight into Beaverhead National Forest where there were many snow capped mountains in the 10,000 to 11,000 feet range. This is a beautiful sight to see. Once again, up and down mountains with many winding roads was the order of the day. Some of the mountains have very steep climbs and very steep downhills. We always pass the big rigs going up as they drive in the right lane with their flashers on. AS we passed Livingston, MT we entered the Custer National Forest we passed the tall Castle Mt with an elevation of 12,612. There are a lot of very tall mountains in Montana. After we passed Livingstone, the landscape pretty much flatten out to small hills all the way to Billings. We stopped in Billings at their local Wal-Mart and went inside to get Tonya a small Birthday cake. I never turned off the RV, even when we stopped to get gas or at any other stop as I was afraid we would get stuck. At the Wal-Mart there were many large and small RV just parked with the side slid out and enjoying the day. You would think this was a RV park. Iíve never seen so many RVís in a Wal-Mart. Anyway on the way out of town, guess what? We got lost again and took the full priced tour of downtown Billings. Itís easy to see that this is a rodeo and cowboy town. The big stadium downtown is a rodeo arena, not a sports complex. Billings Montana is on the Professional Rodeo Circuit and is a well known Rodeo town. After we found our way back we headed for the Yellowstone River RV Park just outside of town off exit 454. It was an OK park with a lot of tall Cottonwood trees, great for my allergies. The Yellowstone River ran tight next to the RV Park about 500 yards to the south. The roads were paved with a small playground nearby. Since it was Tonyaís birthday I did all the cooking and cleaning today. Everyone decided on hamburgers for dinner. So while they played and frolic in the park I grilled hamburgers, right next to our sewer line as our picnic table was located on the opposite side in the back. It was a relaxing night as we watched a couple of movies and crashed. Tomorrow is another adventure waiting to happen somewhere down the road. So until tomorrow, sleep well my friends.


---
7/11/2010: RV Day 32 Saturday Medora, ND to Mt Rushmore KOA South Dakota

Miles Driven: 246

RV Day 32 Saturday Medora, ND to Mt Rushmore KOA SD Last night really sucked! At exactly 2:24am I heard the loudest train blast ever. It was literally right in my ear, or at least it sounded that way. I immediately sat up in bed and Tonya was lying there awake looking right at me. What the hell was that? Right after that another train blast came by a few minutes later. Between 4 and 5am there were four more trains passing through leaving their trademark loud angry blast. Then again at 7am. By them I was outside sitting on a park bench. After the 4am blast I was awake for the rest of the morning. I wonder if these train conductors know that there is a campground full of sleeping people just a few feet away and blast their horns on purpose to piss them off. After all they are up and at it in a early hour, why not everybody else. This was just ridiculous and just plain stupid. At 7:15am I went back inside the RV to wake Tonya as she wanted to get an early start to get to the Mt Rushmore KOA early. To my surprise se was not only awake but already showered and ready to go, NOW. She was cussing the trains and was downright pissed off at the campground in general. She wanted to leave now, right now this very moment. I HAVE NEVER EVER SEEN TONYA UP THIS EARLY ON ANY OF OUR RV 6 RV TRIPS. NEVER AT 7:15AM. SHE IS NOT AN EARLY MORNING PERSON WHEN WE TRAVEL! I immediately started putting things away and went outside to start the normal sewer backwash and tear down and up plugging the RV while she did the inside and moved the kids to the back bedroom where they could sleep while I was driving. At exactly 7:45am we were ready to drive off. I felt really tired and sleepy, but a cup of coffee kept me going. This was an all time record ever for leaving a campground this early. Our previous record was leaving at 8:30am when we left Salt Lake City headed to Reno, NV. As we left we stopped at a small connivance store in Medora to get a cup of coffee for the road as it was very early. I looked up at their clock above the register and it said 6:45am. What! Tonyaís clock or Iphone was not correct as we were about 15 miles away from the time zone and it was only 6:45am. Now Tonya was really pissed as she had very little sleep like me. This was really a new record for both of us as we were actually on the road at 6:45am. Oh well this is going to be an interesting day. We are headed to the Mt Rushmore KOA in Hill City South Dakota by Mt Rushmore. Itís about a 5 hour drive. We hit 85S which is a two lane road about 22 miles east of Medora going south. I donít like these one lane each way roads when we are in the RV as it doesnít leave a whole lot of room for error and it makes it hard to pass other vehicles. The road actually was a real nicely paved road. The drive was also nice as there was a lot to see. There wasnít a whole lot of traffic on a Saturday Morning at 7:00am so it was a comfortable drive. I was totally surprised by how beautifully the dark green fields were. There were a ton of very large and massive Cattle Ranches with many large metal grain silosí and barns and bunk houses. They looked more like a business complex with all the various types of large red and green tractors and barns attached next to the ranch houses. Thousands of cattle with their calves roamed the large fenced in acres of these massive estates. Ranch hands were already out working the fields and checking on the livestock. There were literally thousands of rolled up bales of hay neatly placed in the fields ready to be stacked. This went on for over a hundred miles. I was quite impressed with the sheer size of these massive operations As usual there were also thousands of bugs, mostly stuck on our windshield and the front of the RV. This road, 85 south to Deadwood was the straightest road Iíve ever been on. You could see the road straight as an arrow all the way to the horizon and beyond for over a hundred miles, hardly ever a turn. After about an hour Nathan wakes up and comes up to sit with Tonya while I drive. They are talking away about everything and all of a sudden I hear Tonya let out a loud scream right in my ear and then I instantly hear a loud THUD! Some type of large bird had just hit her side of the windshield and went over the top of the RV. It left a feather on her windshield wiper. It scared the crap out of me: her scream more than the thud sound of the bird. Tonya then instantly starts blaming me for hitting the poor bird as I should have swerved and slowed down to miss that damn bird. Is she nuts? I didnít even see the stupid bird? Hell Iím bigger than the bird; the bird should have been looking out for me! As she is just chastising me over and over again about hitting the poor bird, another group of birds comes our way and I run over another one. Now she is livid. She swears I did it on purpose, again. This is almost comical. Imagine this: Iím doing 75MPH on cruise control, on a one lane highway, early in the morning, tired and pissed and Iím supposed to look for oncoming birds? Heck Iím trying to watch the road for oncoming traffic as we are constantly going up and down over small hills on a narrow road. The damn birds better get out of my way today! Iím in a bird killing mood. Apparently small flocks of the birds were feeding on all the bugs from the fields and many times came close to getting hit by the RV. To tell you the truth, the 2nd bird fatality made me feel pretty macho as I was getting ragged about the first one. Now check this out! Tonya tells me she hears the dead or injured bird chirping from the front of the RV. Can you believe this? The soul of the dead bird is haunting me, along with Tonya. Tonya wantsí me to pull over so she can help the poor injured bird stuck to the front of the RV. What exactly is she going to do, repair its wings? There is no way I can pull over as there is no shoulder on the side of the road large enough for a RV to pull over. Every 10 or 15 minutes she tells me again over and over and over she hears this bird chirping or as she says, ďbegging for it lifeĒ stuck on the front of our RV. Now she has Nathan and Jonathan believing that there is a injured bird stuck on the front of the RV as I doing 75mph down the road. After awhile I began to hear it myself, I think! Too bad birdie Iím not stopping. I did notice quite a few Bikers on the road headed to Sturgis a few miles south of us. There were about 15 bikers in front of us on 85S and they were spread out so long it was impossible to pass them. So for about an hour we followed the doing 60 to 65 mph until they finally pulled over to eat in some small town so we could pass. We finally pulled into Belle Fourche just a few miles north of Spearfish where 85S meets 90 and stopped at a truck stop to refuel and have some lunch. I finally found someone who could cook a Chicken Fried steak with gravy. After we had dinner we headed back out on 90E to Deadwood South Dakota via the Black Hills National Forrest. % minutes after we left the truck stop I noticed smoke coming from the road just ahead of us. As I got closer I saw an old truck with a long trailer carrying bales of hay on fire pulled off the road in the opposite direction. The bales had apparently just caught on fire and it was moving towards the cab of the truck. I immediately pulled over on the inside of the road right across from the fire and grabbed our fire extinguisher just as a as a volunteer fireman flagged us down and ran up to our RV and ask if we had a fire extinguisher. I said yes we did, handed it to him and he took it and ran over to the fire and began spraying the burning grass fields beside the truck to keep it from going into the grass leading into the forest. The traffic was completely stopped in both directions and the fire was so intense that I could feel the heat from across the highway. The fire had already engulfed the burning truck by now and the single fireman came back over to us and asks me for a business card so he could have the state refund us for the fire extinguisher. I told him to forget about it and keep the fire extinguisher. He insisted and said, ďYou donít understand young man, Iím not worried about the truck, Iím was worried about the dry grass catching on fire and getting into the Trees and starting a much bigger fire in the National ForestĒ. Apparently I was the only one who stopped to offer assistance and had a fire extinguisher handy to stop the grass fire from spreading. He was very appreciative and mentioned several more times how very important it was to stop the fire from spreading to the forest. I took several good photoís until the fire got so intense and the fireman was yelling for us to leave as the truck was about to blow the gas tank. As we pulled back onto the road you could head the fire trucks coming down the road with their sirens on. The truck was completely engulfed in flames by now an the black smoke and intense heat was so thick you couldnít get near it. OH well, another day of our adventure on the road. Iím glad I could single handily save the Black Hills National Forest from burning down. Thank God for the fire, it beats killing poor dumb birds. As we headed further down the roads I told Tonya I wanted to take the back roads through the Black Hills National Forest that I had just helped saved from burning down. I could see how the Indians fought to save this forest. It was a beautiful drive up and down the mountains and through the forest. We came in the back way through Deadwood and drove through the downtown section (More on Deadwood and Sturgis later on) of Deadwood and headed to the KOA. This Mt Rushmore KOA is the largest KOA Iíve ever seen. With over 563 sites and hundreds of cabins, two swimming pools, a jump pad and several laundry buildings and restrooms located throughout the campground. It was packed to the hilt. Naturally we got stuck in the very back in the ghetto section again. No cable! Thatís the problem with not making any reservations ahead of time. But thatís how I like it as we never know where we are going. It actually worked out very nice as we were near one of the very large playgrounds and one of the two swimming pools. They had basketball courts, sandy volley ball pits, horseshoe pits, putt-putt golf and a complete connivance store right in the middle of the park. This place was huge. They also had a breakfast house nearby where you could enjoy all the pancakes you could eat for two dollars apiece. After we set up the kids were gone playing everything, golf, basketball, volleyball, swimming. They were in kid heaven. Tonya took the break to do laundry as it started to rain. I could see some large black clouds were coming our way and it was lightening. The campground personnel immediately closed all the activities and everyone went back to their sites to wait out the storm. After about three hours the rain stopped and everyone came back out and resumed their activities as if nothing ever happened. But we now had muddy roads everywhere. Later Tonya and I walked about Ĺ mile back to the front to see all the stores and restaurants they had on the property. Iím telling you this place was a small city. We visited the stables where they offered horseback riding and they went to the bar for a couple of strong drinks. We were very tired and ready to hit the sack. It has been a very exciting day! I rented a Lexus Van for two days here at the campground and I will pick it up tomorrow morning at 8:30. We are going to tour the area in Sturgis, Deadwood and Hill City. On Monday we are going to visit the massive Badlands National Park to our south. Itís getting late so until tomorrow, sleep well my friends.


---
7/11/2010: RV Day 31 Friday Billings, MT to Medora, ND

Miles Driven: 273

RV Day 31 Friday Billings, MT to Medora, ND I got up early again at 6:00am and went outside to the cool weather sun and sat down with my coffee. The sun was already up and naturally people where already packing to leave. We are camped right up front by the office in space number 34 and right next to the dumpsters. So I get to say hello and good morning to everyone who comes to dump their garbage. How cool is that? This Yellowstone RV Park is real nice and clean with paved roads and rock drive throughs. There are about 300 tall Cottonwood trees perfectly situated through the park with a nice playground and an open wooden building that is used as a meeting place. The RV Park is about 300 to 500 feet from the Yellowstone River. You can take a walk down to visit the Yellowstone the river if you so desire. Oddly, we are right next to a KOA campground. As a matter of fact the KOA next door advertises as the very first KOA ever opened. I wasnít overly impressed with this campground and I had no problem leaving this place. OK, todayís drive can be summed up in one wordÖboring, boring, boring as it was a long straight drive from Billings Montana to Glendive, the last major city in Montana on 94E before you enter South Dakota. The highlight of our day was counting the bug splats on our windshield and watching the dead ones race across the front, leaving their body parts behind. The bugs were so bad we had to pull over in rest areas to wash them off. I noticed the first rock chip on my windshields down by the inspection stickers. Great, thatís all I needed. These are the kind of drives where you feel like you could take a nap. I put the speedometer on 75mph and pushed cruise control and relaxed. I merely aim the RV in the right direction and it does the rest. Montana, like Washington State and Oregon, starts out on the Western side of the state looking great, but then the eastern part is pretty drab and boring. The one historical highlight was Pompeys Pillar National Monument just 25 miles east of Billings on 94 E. Pompeys Pillar is one of the most famous sandstone buttes in America. It bears the only remaining physical evidence of the Lewis and Clark Expedition, which appears on the trail today as it did 200 years ago. On the face of the 150-foot butte, Captain William Clark carved his name on July 25, 1806, during his return to the United States through the beautiful Yellowstone Valley. Captain Clark named the pillar "Pompeys Tower" in honor of Sacagaweas only son Jean Baptiste Charbonneau, whom he had nicknamed "Pomp." Nicholas Biddle, first editor of Lewis and Clarks journals, changed the name to "Pompeys Pillar." This was a pretty cool thing to see for you history buffs. We have been following the Lewis and Clark expedition trail since we left Astoria, Oregon. We covered in three days that took then a couple of years to do. How time has changed. As we were driving along and didnít have a lot to door see, I decided that I really didnít want to drive completely across North Dakota as I knew from others that it was pretty much a dead-end drive as far as sites goes. However the first part of the drive into North Dakota was beautiful. There were a lot of small mounds or mole hills about 30 to 40 feet high with a perfect green carpet of grass covering them. They were just off the road and there were hundreds of them. They seemed very odd, but beautiful. Everything was perfectly dark green. After all this was a National Grassland National Park, whatever that is. After awhile I figured we would go down 85S to Sturgis and Deadwood in South Dakota. We were there 2 years ago and really liked it. We could once again visit the Crazy Horse and Mt Rushmore monuments as well as travel The Black Hills national Forrest. So Tonya quickly found us a campground in Medora, North Dakota which is at the entrance of the Theodore Roosevelt National Park, called the Red Trail RV Campground on exit 24 off 94E. As we pulled into this place I knew right away it was a dump. After you have been to so many of these campsites you can get a real good gut feeling at first glance. I was right. It was thankfully for one night only. We were put in the far back up against a mountain on an uneven dirt road. This was the ghetto section. You could tell it was a very old place by the look of the sites and the types of RV there. But like I said it was for one night only. The town of Medora, North Dakota was a very beautiful small community with the old western look and feel as it was back in 1880ís. Tonya and Nathan walked to Ĺ mile back into the town from the campground, but it was late and most of the stores were closed by then.We finally called this boring day over and crashed without watching a movie. Until tomorrow my friends, sleep well.


---
7/8/2010: RV Day 29 Wednesday Hermiston, Oregon to Missoula, MT

Miles Driven: 383

RV Day 29 Wednesday Hermiston, Oregon to Missoula, MT Before I get started on todays blog, I must mention that tomorrow, July 8th is my wife Tonyas birthday. I havent been able to get her a gift, not even a birthday card as we have been on the road. I would greatly appreciate ANYONE who is following our trip on my website or blog to PLEASE call her at 214-587-8444 and wish her a Happy Birthday or to at least text her and say it is from a friend of Jhon E Cash. It would mean a whole lot to me and to her as well. If you are a friend of Tonyas it would be especially special, plus it would help cover my ass. Even if you are a day or two late it would be OK as she knows that my blogs are always late by a day or two.I wont forget those of you who do! I got up again early at 5:30 this morning and went outside with my cup of coffee but there was no place to sit so I went back inside to blog this report. The weather is definitely changing as we use the air conditioners for the first time last night, in a long time. Not much to report this morning, except that tomorrow is Tonyaís birthday and we havenít got her anything, not even a card. Iím in big trouble. I havenít been anywhere to get her anything. But that is no excuse, believe me. I think Iíll get her a bag of dirt from North Dakota and wrap it up as a gift from the kids, not me, as North Dakota is the only state left we have not camped in, thatís something special. Maybe not! We should visit four states today including: Oregon, Washington State, Idaho on into Montana, and all less than 200 total distance. Our last state to visit, North Dakota is fast approaching. I woke everyone up early and was determined to hit it early. We actually got our s#!t together and hit the road at 8:30am, the earlist we have ever left a campground on this trip so far. We immediately stopped at a place called the SpaceAge Gas Station on the edge of town, fueled up and headed to 82W to 395N toward Spokane, Washington. It started off OK as there was actually a Winery outside of the city of Kennewick, Washington. I was totally surprised to see the small tree- like grapevines growing on both sides of the road. At Kennewick we got off 82N and got onto 395N towards 90E to Spokane. 395N was a real nice 4 lane highway with two lanes on both sides. After we passed through Kennewick there was nothing to see but the large open plains situated small bare hills with an occasional farm house sticking out like a sore thumb. However after that it was pretty much a peaceful and uneventful drive through Sagemoor, Etopia, Lind and Paha and into Ritzville. Once we passed Ritzville there were fields and fields of some type of beautiful Amber grass growing on both sides of the road. It reminded me of a verse in the song ďAmerica the BeautifulĒ Öwith amber ways of grainÖ Once again there were no trees anywhere within 80 to 100 miles, just bald rolling hills in the open plains with a farm house protruding out here and there. Nothing special to talk about until we got about 15 miles outside Spokane, then the Pine trees retuned as quick as they first disappeared. I had been driving for 3 Ĺ hours without a break so Tonya suggested that once we got to Spokane that we find a Wallyworld to take a break. We decided we really needed some new CDís as we had been listening to the same CDís for the last 30 days straight. After we spent 1 Ĺ hours in Wallyworld we went back to the RV, loaded up, and turned the keysÖand the sucker would not start! Not again! I could not believe this crap as I had just spent over $1,500 and seven days in Reno to get this very problem fixed. Hell I had just bought a brand new starter not two weeks ago. As I sat behind the wheel with my head leaning on my hands on the steering wheel, I began to silently cuss myself as I knew the only way to get it started was to crawl under the back of the RV and short the starter while Tonya turned the key. Iím too darn old for this stuff. So I waited until no one from Wal-Mart was looking and crawled under the damn thing and shorted it. Boom, it started right up. Great, now Iím the new keyless RV starter for the rest of the trip. How could this possibly happen? Bob are you hearing this? Just think Iím in an expensive 40 foot motor home in the middle of a Wal-Mart parking lot in Spokane Washington crawling under the thing like an idiot trying jump start a RV. Sort of comical in a way! Why am I embarrassed? Because Iím in a Wal-Mart parking, being embarrassed by the fact that Iím at a Wal-Mart to begin with. Needless to say Iím not turning this thing off till we are parked in our camp spot for the night in Missoula, MT, which is 185 miles away. Please Mr. RV, donít die on me now! Other than that little episode at Wal-Mart, the rest of the drive from Spokane through Coeur díAlene, Idaho was absolutely astounding and beautiful, especially passing by the deep blue waters of the Coeur dí Alene Lake. Breathtaking is a better word to describe the winding roads and Mountains in Idaho. Tall trees lined the mountain road as we drove along the Coeur dí Alene River which is in the valley. The view got even better as we entered the wonderful Big Sky State of Montana. This is what a beautiful scenic ride should be. Itís hard to describe until you actually see it for yourself. The tall pine trees of the Delton Gardens National Forest on through the St Joe National Forest into the Lola National Forest of Idaho. It doesnít get any better than this. Iím just so thankful that our government has set aside all these National Forest for future generations to enjoy as I have many times. The Idaho drive was much too short. But Montana was as good if not better. The tall pine trees were right off the road clinging to the many slanted hills that seemed to be reaching upward for the blue skies of Montana. The winding river followed you as you made your way up and down the winding mountain trail. As we got future into Montana on 90E the mountains, or large hills moved to the background to give way to large rolling fields and magnificent Ranch Houses surrounded by acres of white fenced in green pastures. It was reminiscence of the Ponderosa Ranch from the TV show Bonanza of the 1960ís. After a long day we finally reached our destination of the KOA in Missoula off exit 101. Yep they have Casinoís in Montana like most states do, except Texas. The Missoula KOA is a nice KOA for kids. They have paved streets, an arcade, two playgrounds, a heated pool and a breakfast house. I tried to talk Tonya into staying another night so we would not have to travel on her birthday, but the trooper she is, she insisted we continue on to the east coast. We even got a premium spot for the night with a concrete patio, a fireplace and a large wooden swing and table. While Tonya and the kids went swimming, I lit the campfire and brought out my computer. I then fixed a very large and strong Bacardi and a little Coke and sat back to do this blog. Itís 10:30PM and Iím working under a lamp on the table to finish this blog so I wonít have to in the morning. Tomorrow is Tonyaís birthday and Iím screwed as I didnít have the time to get her anything, not even a birthday card. I told her earlier that the kids and I would give her a BIG birthday celebration when we got to Dollywood in Tennessee or Myrtle Beach in South Carolina where we would set up for at least a week and rent a car. After all, what woman would want to celebrate a special 29th birthday traveling in a RV with three wild kids through the beautiful mountains of Montanaís National Forests? Thankfully she understands the situation and is very adaptive to the scenario at hand. However I guarantee you I will pay sooner or later and it wonít be cheap. Sheíll make sure of that. But as Iíve always said, ďThe good things in life are not cheapĒ. Iím not sure where we will end up tomorrow night, but rest assured that I will keep you informed. Stay tuned for a new adventure for tomorrow as we continue our trek across America the Beautiful. Tomorrow morning as I reluctantly crawl under the back of RV on my bad back to do my ďstarter imitationĒ, I will once again think of my wonderful brother Bob Reed in Reno who is reading this blog and laughing his ass off! Until tomorrow, sleep well my friends.


---
7/7/2010: RV Day 28 Tuesday Astoria to Hermiston, Oregon

Miles Driven: 302

RV Day 28 Tuesday Astoria to Hermiston, Oregon Before I get started on todays blog, I must mention that Thursday July 8th is my wife Tonyas birthday. I havent been able to get her a gift, not even a birthday card as we have been on the road. I would greatly appreciate ANYONE who is following our trip on my website or blog to PLEASE call her at 214-587-8444 and wish her a Happy Birthday or to at least text her and say it is from a friend of Jhon E Cash. It would mean a whole lot to me and to her as well. If you are a friend of Tonyas it would be especially special, plus it would help cover my ass. Even if you are a day or two late it would be OK as she knows that my blogs are always late by a day or two.I wont forget those of you who do! Once again here I am up at 6am and outside the RV with my computer and coffee. Yesterday was a wonderful day as it was an off day for everyone to relax. Some new travelers came in yesterday as others left. The weather finally has changed and now itís much warmer, as we prepare to depart this morning. We prepared the RV last night so it shouldnít be too much to get ready this morning. Iíll wake up the kid in a few minutes, and weíll all go down and get our free pancake breakfast and get ready to depart for the east coast. As we left the RV Park we had to go to the City of Astoria to pass over the famous long Astoria/Megler Bridge that connects Oregon to Washington State. We went over the Bridge, turned around and came back over once again to Oregon and headed downtown to 30east towards Portland. If youíve never seen the bridge itís pretty long, high and very impressive. It is an awesome trip to ride it because it has such a great view of the Columbia River from both sides. The ride down 30 to Portland follows the Columbia River also known as the Lewis and Clark Trail. It was not a whole lot to see although there was a lot of greenery on rolling hills. The road was a wonderful well maintained 4 lane highway, two lanes both ways. We stopped at a Post Office n Clatskanie, Oregon so I could Express Mail some checks to various vendors. I still have to pay vendors and bills while Iím on the road. Itís pretty small but clean town. As we went barreling on down the road we came upon the city of St Helens. You could see Mt St Helens the volcano that erupted in May of 1980 and also you could see Mt Rainier and Mt Hood. It was pretty cool to see these three majestic mountains. All three were completely covered in snow. Mt Rainier is the tallest mountain the Cascades at 14,144 feet only a few feet taller than Mt Shasta in Northern California where we stayed a couple of weeks ago. Mt Hood at 11,249 was probably the most impressive peak as it stood all alone and was the most perfectly pointed mountain Iíve ever seen. Mt Hood is located in Oregon while the other two majestic mountains were located in Washington State. Mt St Helens was obvious to pick out as it had no top on it at all as a result of the 1980 eruption. The north end portion of the mountain was completely gone. All three of these peaks fall into the High Cascade Mountain Range. The Cascade Mountain Range goes from Northern California and Oregon through Washington State into Canada. The Canadian peaks are the more rugged and jagged type while the lower portion is more taller and majestic looking. But to see all three at the same time was quite impressive. We stopped in Scappoose for fuel and Tonya went to Fred Myers, which I didnít know was owned by Krogerís Food Stores to get new supplies. In Oregon it is required by law for all the gas station to pump gas for the customers. However customers can pump their own fuel if they get diesel. It a pretty strange law, but refreshing. I canít remember the last time someone pumped gas for me, outside Oregon. As I pulled the RV up to the pump, I yelled out to the attendant, ďFiller UpĒ. Iíve always wanted to say that. Anyway as we continued on we got to downtown Portland and I did the one thing I didnít want to do during rush hour in a major city, I missed my damn turn from 30east to 84E. It was my entire fault as I wasnít paying attention. Well needless to say, Tonya had to break out the GPS (Mary) and it took almost an hour to get back on the right tract. As my son Jonathan would say, ďMy BadĒ. I must admit Portland was a nice and quaint city as we saw most of it trying to get back on tract. As we did get finally get back on 84 going east we made good time as the road was perfect with hardly any bends or turns to maneuver. It was nice to have the Columbia River to view on my left as there wasnít much else to impress me or anyone else. Once we got past The Dulles, it turned into a desert spawning desert with not one single tree in sight for 50 to 60 miles. Itís as if God said, ďOK no more trees or greenery from this point onĒ. Let me tell you, he meant it. There was absolutely nothing on either side of the river but bald rolling hills period. There were hundreds of large Wind Turbines churning out electricity on the top of the hills as it was a very windy area. The whole landscape was totally naked of everything else, not even any grass, not one blade. I thought we were driving through Arizona or New Mexico on Hwy 40. Itís really odd how quickly the scenery changed from a green forest to the desert in less than one mile. I just drove and drove with not much to do or see, except the Columbia River. I just put the cruise control on 68mph and aim the steering wheel. This thing drives itself. This is the exact view Lewis and Clark had back in 1805 and 1806 as they headed to the mighty Pacific Ocean. As Tonya said, ďAs bald and sparse as the landscape was the explorers could at least see the Indians as they traveled and camped on the banks of the Columbia RiverĒ. Around 5:30pm we decided to pull into an unknown RV park in Hermiston, Oregon for the night. It is to be our last night in beautiful Oregon as we head up into Washington State tomorrow. I doní even remember the name of it. It was more of a local RV park as most of the people lived there in 5th wheels they rented. You could tell it was a working manís RV Park as every one of the trailers had a big truck with tool boxes on the rear of them. Most of the spaces had stairs built into the to reach the steps with flowers in the dash of the 5th wheelers. They were permanently parked. However it was a nice paved park with no amenities except cable TV. All we really wanted was a place to spend the night anyway. No one even left the RV except me to hook up as we had dinner and watched TV and crashed early. Tomorrow is another long drive day as we head up 82N to 395N to 90E through Spokane, Washington into Idaho. Iím not too sure about the 395N drive from 82 to 90E as the map shows it to be a very small road. Those roads are always dangerous for me in a 40 foot RV. Itís the unknown that bothers me, especially when we are out in the middle of nowhere. The thing about the northwest is that there are only so many major roads that you can take to get around, unlike the east coast where you have many options to travel to get from point A to point B. There never seems to be a straight shot to get where you are going up here in the north to mid west. We are scheduled to meet some real cool friends, The Makeyís in North Carolina sometime in the next couple of weeks to go to our annual digs in Dollywood in Pigeon Forge, Tennessee and then to Myrtle Beach in South Carolina. We meet this wonderful family of five from North Carolina 4 years ago while camping in Washington DC on the 4th of July weekend and we have tried to hook up with them annually to visit. Their 3 kids are almost the same age as ours, so it works out pretty good. However, thatís a long ways away from here. It looks like we are going to do a coast to coast trip this summer for the first time. Anyway itís late and I want the kids to crash early so we can get an early start tomorrow morning. Until tomorrow, sleep well my friends.


---
7/6/2010: RV Day 27 Monday Astoria Oregon

Miles Driven: 0

RV Day 27 Monday Astoria, Oregon We wanted a large kid friendly RV park and we got one in the KOA in Astoria, Oregon. This KOA is huge with lots of activities for everyone. We camped here two years ago for 5 days and loved it, so here we are again for at least 2 days. We need a stay over for a break before we take on the long hard drive to the east coast. I got up at 8:00am, late by my standards. I was really tired from yesterdayís long trek up the beautiful Oregon Coast. The Oregon coast, in my opinion is the most beautiful and scenic coast line of any state. I went outside with my morning coffee and the KOAís daily activity was already kicking in for most folks. People were walking around, tearing down their tents, going to the restrooms, walking their dogs and getting their morning exercise by jogging or just walking on the paved roads. Today is Monday, the day after the fourth of July and most of the people are packing up and leaving to get ready for tomorrows working day. That is great news for us. The weather is cloudy and very overcast as the cold winds try to break through my light jacket which is held tightly by my cold numb fingers. As I look up I can see the sunís meek rays trying hard to break through the thick overhead clouds slowly passing by. The radio said it would be warm, sunny and in the high 60ís today. I hope so as I canít stand these cold mornings much longer. As I sit here writing this blog in the cold morning breeze, I notice the many die-hard tent campers slowly exiting of their snug warm sleeping bags groggy eyed and wandering around the camp in their jammyís and tee shirts looking for the bathrooms or restrooms. These people are nuts! Itís cold and damp up here in the Pacific Northwest, especially in the early mornings. Why someone would want to stay in a small tent in this type of weather baffles me. I can understand overnight camping in warm weather but in cold weather! You can always tell the ones who camped in a tent the previous night as they seem to be in a daze walking around their tent sites wrapped in a blanket with no shoes on just standing around looking at everyone whoís looking at them. Itís as if their mind is telling their body to do something it doesnít want to do. But they donít seem to mind the hardships and it certainly doesnít bother me. One of the cool things about this KOA is they offer a free (pancakes only) all-you-can-eat pancake breakfast for all paying campers. If you want eggs or bacon or sausage or any juice is a couple of bucks extra. What a deal, you can feed 5 people a great hot breakfast with all the trimmings for about $10. They also have a indoor heated pool, bike rentals, and daily activities for the kids. They provide a free movie with free popcorn in their surround sound hall at nights. Guess what we watched last night? Your right, Independence Day! Today Tonya is making a brisket outside in the fire pit in her famous Dutch oven and the kids are off doing their things somewhere around the camp. Jonathan cut some firewood up earlier for tonightís campfire. After our brisket dinner weíll light up a nice big bon fire and invite the neighbors over for a few beers or cocktails and weíll all sit around and tell a few lies. Sounds like a great game plan to me. Astoria is the last city in Oregon before you cross the Bridge over the Columbia River to Washington State. It is also where in march of 1806, the famous Lewis and Clark Expedition finally met the Pacific Ocean that ended their 3 year journey they started in the summer of 1803. For those who want some history: In 1802 President Thomas Jefferson agreed to purchased the Louisiana Territory from France on July 4th 1803. He now wanted someone to explore the newly acquired territory. He hired Meriwether Lewis and in return Lewis hired William Clark to assist him on his famous journey. They set out on May 4th 1803 to find a route to the Pacific Ocean from camp Dubious in Missouri and the expedition ended on March 1806 at the mouth of the Columbia River in Astoria, Oregon. The Columbia River separates the states of Oregon and Washington State. There is a fort here in Astoria that that Lewis and Clark stayed in with Sacagawea called Fort Clatsop. The mighty Columbia River empties into the Pacific Ocean at Astoria. It is a somewhat small but beautiful and historic city. We toured this area and visited the Lewis and Clark Fort two years ago on our 2008 trip up the famous Highway 1 and 101from San Bernardino, California all the way to its end in Olympia Washington. What a ride that was. It now getting dinner time and Tonya has been busy cooking this beef Brisket for almost 6 Ĺ hours on an open pit fire in her Dutch oven. She also prepared butter corn on the cob with beans and potato salad. Being from Texas we eat a lot of beef, but I must say this is the best and most tender brisket Iíve ever had. It was incredible as I could cut it with a fork. She did this with only 20 coals. I have now named it ďTonyaís 20 Coal BrisketĒ. I am now a believer in Dutch ovens. It was just an outstanding meal over an open campfire. Jonathan and Nathan are out playing football with a bunch of other camp boys while Madelyn is playing on her computer. Tonya has now finished our laundry and we are cleaning up and getting ready for our trip across country to the east coast which starts in the morning as we head up to Spokane Washington. As of tomorrow we have been on the road for 28 days and covered about 4,000 miles and weíre not halfway done. Iíve noticed something neat about this traveling family; the whole family treats these trips as part of everyday life. Life on the road in a RV crossing the United States is a very different lifestyle from staying at home and playing the summer away with their friends. They have adapted to it very well. No one complains about being on the road, it has become a way of life for them in the summers, almost second natured. It is NOT as if itís a long drawn out vacation were everyone is tired and ready to go home, but more of a lifeís experience that we all love. Tomorrow is always a new experience that we look forward to. One thing I ALWAYS do. We learn from these trips. As a serious history buff, I always tell them about the places weíve been and the history about all the places we go. I guarantee that all the kids, Tonya included know where all the states are on the map, their capitols and where they fit into our proud history. Tonya spends a lot of time on the internet as we travel looking up interesting fact about the places we travel to and telling us about it. The kids ask many good questions, itís almost like a game.In our many travels, we all have all learned a lot about US history, but more importantly, weíve lived, seen firsthand and experienced it! Thatís all I ever wanted! Tonya is a very good traveler as it takes its toll and her. She prepares lunch and dinner daily on campfires or sometimes in the RV while were traveling, doing laundry in various campgrounds, helping set up the RV, tearing down the RV and keeping me company on the long drives. Not to mention calling all the campgrounds in advance and securing a place to for us to stay for the night. As we donít always know in advance where we are going from one day to the next, itís gets tough. She is also the navigator. I tell her about where we will end up and she takes it from there making sure we donít get too lost. The kids hang out in the back while were traveling, playing video or board games, sometimes coming up to the front to see some of natures beauty as we pass through interesting spots and a lot of the time just plain fighting each other. On long drives they get a bit restless and are ready to get out of the RV and do something. That is why we stop so often to view and experience a lot of famous or interesting sites. Over the last 6 summers we had been just about everywhere in our wonderful United States on these exciting trips. Oh well, enough rambling, itís getting late and tomorrow is a travel day. Time to get everyone bathed and into bed. Until tomorrow, sleep well my friends.


---
7/5/2010: RV Day 26 Sunday Florence, Oregon

Miles Driven: 187

RV Day 26 Sunday July 4th Florence Oregon Happy forth July 4th to all of you everywhere! Itís 7:30am and I got a late start today. Itís all Quite on the Western Front here. The only people out are the ones walking their dogs. There are dogs everywhere we go. I guess they like to travel as well. Some people have dogs, we have kids instead. The sun is up and I can see the top of the sand dunes proudly towering over the tall pine trees to my immediate west. There is an entrance to the dunes from the end of the campsite for all the people to follow in their dune buggies. Everyone here has their custom modified dune buggies and 4X4 Jeeps out ready for todayís festive activities. This place looks like a rally point for a big dune buggy convention. The campground is relative quite this morning as a lot of people partied last night. I can see the remnants of empty liquor and beer bottles near most campers. This really isnít a bad campsite; itís just not kid friendly as there is no playground, except for the dunes. The streets are paved, just not the pull through sites. Funny thing about RVíing, on travel days most people get up and hit the road around by 7:00 to 8:00, we never even get up that early. The kids and Tonya are usually up to past midnight every night. On travel days, I pretty much wake everyone up around 9:30 to 10:00; we eat a snack, do our assigned chores and try to leave the site around 11:00 the check out time. When we are not traveling the next day, I let everyone sleep in till they are ready to get up. Nathan is always the second to get up. Jonathan is usually the last to get up as he is the last one to hit the sack, as he stays up and plays on his computer all night. That seems to work fine for us as we are in no hurry to go anywhere in particular. Everyone has a chore for the mornings when we travel. I typically get up early; go outside with my coffee and notebook computer to do my daily travel blogs. When it is time to get them up, I typically make a snack breakfast for the kids and a cup of coffee for Tonya. The kids fold blankets and put the beds upright while they watch cartoons and snack. Tonya showers and does her makeup and organizes the back end while putting away the little things we took out the night before. As space is limited, everything has its own little space. Tonya is the only person in the whole world who knows where everything is in this RV. Madelyn usually vacuums the floors and helps with the dishes; Nathan and Jonathan who do most of the work, do the ungrateful sewer backwash and unhook the water, cable TV, and sewer lines and finally the power is the last thing we unhook after the slide ins. You have to pull the line for the black water first then the grey water last to flush the sewer hose. Lastly they coordinate the slide ins making sure there is nothing in the way while they close them. The right side first, the left side next and finally the bedroom. We have crushed a few things in the past by closing them without looking closely. We then lower the jacks, start the engine and power up the air, which raises the RV 4 to 6 inches over the wheels. When all is ready, I go out with Jonathan and Nathan and do a final walk around the RV to make sure all the bays are closed and the 3 slide are properly slid in and indeed the jack did come up. Everything has to be done in exact order or you will have some major problems. Jonathan has done a great job this trip showing Nathan how to properly do the outside chores. He is indeed a good big brother, most of the time. Anyway, Iíd thought we would be somewhere other than here for the 4th. I think a lot of people are leaving today as Monday is a work day for them. That is good for us as maybe weíll be able to find a desirable campsite for tonight. Iíll ask the kids when the wake up if they want to hang around the dunes or head to the east coast where it is warmer. Itís about time to go wake the crew and start the procedures, so Iíll talk to you later. As usual we got a very late start, leaving around 12:30pm. I was well rested and ready for a nice easy drive up the Oregon Coast. Today is the 4th of July and it was obvious as we drove through all the small communities along the coast. This was going to be a very, very slow drive as every small community we hit had a big 4th of July celebration going on and most of the downtowns were congested with hundreds of partygoers. There were thousands of American flags lining both sided of the streets and all of the stores were open with additional vendors selling food stuff and fire works on the street. You could hear the various bands playing outside with the aroma of the vendors cooking their goods filling the air. This was life in Rural America. In Lincoln City there were hundreds of protestors with their Barak Husain Obama signs on one side of the street and on the other side of the street others were clapping and yelling for them. One sign caught my eye that pretty much sums it up, ďMr. Obama, No more changeÖ change it back and go home.Ē We saw this type of sediment in most of the small seaside towns. You have to understand the traffic was going about 2 to 3 mph through the streets and the protestors made darn sure we all saw their signs. These little communities situated on the coast reminded me a lot of the New Hampshire or Maine coast line. As we would come down off a mountain side and go around the corner you could look down the coastline and see all the hundreds of fishing boats and sailboats docked at the marinas on the long piers, with their multicolored house perched up on the hillside on partial stilts. Further up the hillside sat many seafood restaurants and other multicolored apartments or condos. As we left one community we would cross over a long old narrow concrete or steel bridge and head up another long winding road, around another mountain only to once again go down the winding mountain road into another small coastal community. We did this many times. The cool thing is all the communities had their own celebration going on. Then all of a sudden we hit Oretown and headed inland into the Siuslaw National Forrest where the scenery changed completely. We were entering a whole new world. As we came down off the last mountain we entered a valley with a small town called Hebo. For the next few hours the coastal communities were gone replaced with large Dairy Farms with green pastures dotted with thousands of livestock as far as you could see. This scenery had the upper New York flavor with the rolling hills and trees lining the back of the cleared out pastures. It was a beautiful change of pace. 101N is a small one lane two way traffic all the way except when you enter larger cities. It is well maintained for the most part. So as we passed through these small cities we had to be careful when we went around the constant winding of the road. One of our destinations was the Cheese factory in Tillamook, Oregon. We had stopped there 2 years ago and we really liked it. It is a extremely large cheese factory that is open to the public. You can buy cheese and other dairy products directly from them as well as tour their very large factory and see how the cheese is made. They produce 167,000 pounds of various cheeses daily. However the factory side was closed for the 4th of July, but the stores and shops were open. I bought a nice stock of various cheeses and sausages and an hour later we headed back up the coast to the large Astoria KOA for a couple of days of R & R. We pulled into the Astoria KOA late and got a real nice wide open back in slot. We setup and we all went to the late movie at the KOA to see the 4th of July, had popcorn and hung out till it got too cold to stay out. Damn this summer weather. Itís getting late and time to call it a day until tomorrow. Until then, sleep well my friends.


---
7/4/2010: RV day 25 Saturday in the Oregon Sand Dunes

Miles Driven: 192

RV day 25 Saturday Dunes in Oregon It was damn cold when I got up this morning at 6am and went outside with a cup of coffee to consider our options for todays travels. Not having any internet or phone service the last few days has really hindered my communications. Weíll I didnít see or catch a black bear last night, probably because I didnít have the real desire to do so. Thatís fine with me and no doubt the bear too. Anyway I need to get the family up early as we want to get to the Oregon Sand Dunes in Oregon tonight. The drive is a really cool drive and it isnít that far, however the winding road and multiple stops in small communities along the way really slows us down. After we hit the Dunes in Oregon tonight we are headed to Portland and then it is a straight shot to the East coast where it is a lot warmer. The first city we stopped at was in Brooking, Oregon right across the Oregon border for gas and some supplies. Then we headed up the coast over the Pistol River to Gold Beach and Nesika Beach. At this point we had sporadic phone service as we went in and out of the trees and coast line. We couldnít make any campsite reservations as most Oregon State Parks are closed on Saturdays and they donít make reservations anyway. They work on a first come first serve basis anyway. As I said the going was very slow as we approached the city of Coos Bay, one of the larger cities on the Oregon Coast. Coos Bay is a beautiful fishing community with a lot of local seafood restaurants as well as other major stores. We drove slowly through Coos Bay past North Bend on up towards Reedsport and on into Florence. Two years ago when we did this route, we stayed at M. Honeyman Memorial State Park. It was an awesome experience and we wanted to stay there again. However when we pulled in the Park, it was full and we had to turn around and look for another place to stay. Itís really tough to find a place on the eve of the fourth of July. Iíll be so glad when this holiday is over as it has really put a hamper on our plans. We drove up and down the cost for it seems like hours pulling in and out of parks, everything was full. Finally we found a place off 101N called Waohink Lake RV Resort in Florence, Oregon. For people to call these places RV Resorts should be illegal. This place is no resort of any type. It was the only place to stay and it was close to the Dunes, so we booked it for the night. After we hooked up the RV, the kids and Tonya headed straight to the Dunes and I stayed back to catch up on my blogs.I fixed me a very large Bacardi and coke and kicked back. These 6 and 7 hour drives are nice and scenic, but they take a toll on my back sitting in that big cushy chair. For those of you who have never heard of the Oregon Sand Dunes you really need to see them to believe them. They are incredible, large and out in the middle of nowhere. How they got here baffles me, as there are mountains and mountains of white sand dunes and itís not near the coast. As the wind blows the sand the mountains of sand is covering the many tall trees around them. It some places you can see the top of nearly submerged trees. It is a real popular destination for thousands dune buggy aficionados. According to my research, the Oregon Sand Dunes stretch for over 40 miles from just north of Coos Bay to Florence and is part of the Siuslaw National Forest and is administered by the National Forest Service.The Oregon Dunes are a unique area of windswept sand that is the result of millions of years of wind, sun, and rain erosion on the Oregon Coast. These are the largest expanse of coastal sand dunes in North America. Some of the sand dunes tower up to 500 feet above sea level, providing numerous recreational opportunities including off road use,photography and camping. Itís getting late and time to rein the kids in who are out running around the campsite having a great time. Jonathan has once again met a group of pretty young girls, fell in love again and wants to stay here forever. Puppy love hits him at every camp every time. Augh Öwhat it was to once be young, free and not a worry in the world! Johnny my boy, enjoy itÖ while you still can. Its getting very dark outside so Im going to fix another strong drink and go outside and check out the beautiful stars which looks as if you can reach out and grab them or merly reach up and rearrange them to suite your imagination. Maybe I will! So until tomorrow my friends, sleep well.


---
7/3/2010: RV Day 24 Friday Fortuna to Crescent City Ca.

Miles Driven: 113

RV Day 24 Friday Fortuna to Klamath to Crescent City, Ca This is cold weather country as I get up at 6am and go outside with my coffee to blog. Itís in the 40ís, cold and windy and very overcast. It looks like rain for today. Yesterday we parked next to a lady that had 4 collie dogs that were in two wire pens of two each. They were right next to our kitchen and bedroom windows of the RV. When we parked, I opened the windows as it was a nice 75 degrees outside. Jonathan made the comment that he didnít want to stay here because it was full of ďOld ladies and dogsĒ. A loud voice roared through the windows from next door, I heard that! Jonathan got real blushed and said I didnít mean that! He got busted! It was funny. However I can see why this was the last spot available as nobody wanted the space next to the dog lady. Iím planning on driving up the coast on the beautiful California Highway 1 up to Klamath right in the middle of the stunning 200 foot tall Redwood trees in the Redwood National Forest. Last year we loved this place. The famous ďHole in the TreeĒ and the ďMystery TreesĒ are nearby. I want to park the RV for a few days for everyone to unwind. Itís a short drive so we should get there early to enjoy the place before it gets dark. For anyone who has traveled the Far Northwest, you know just how beautiful the majestic Redwoods are. Add in the scenic 101 coastal drive and you have an RVíers paradise. Thatís just what this is! Of course we couldnít get phone or internet serviceÖagain. We traveled 101 north from Eureka to 10 miles north of Crescent City, the last major city before we hit the Oregon coast. We initially wanted to camp in Klamath but the campgrounds were just too plain without all the giant redwood trees surrounding the camp itself. We stopped in Klamath which is a tribal Yoruk Indian Reservation city. It was pretty run down and didnít have much to offer other than very expensive fuel. So we fueled up. We could have gotten a discount if we had a Tribal ID, but I left mine back in Dallas. So we drove on up through Klamath to the Mystery Trees stop. The Mystery Trees is a tourist stop just a few miles past Klamath and it features a 50 foot tall wooden talking statue of Paul Bunyan and his sidekick Babe the Blue Ox. We stopped here two years ago on our RV trip so we couldnít pass on stopping here again. It was good to see Paul and Babe again. We stopped at several shops near Trinidad that had wooden hand carved statues and other misc. items all carved from redwood. Tonya couldnít find anything she liked so we moved on to the next one. After we left Crescent City we pulled over looking for a camp for the night, as everything was booked for the fourth of July.. We found a place that was very deep into the redwoods called Houchi RV Resort off 101 on 199E. This place was really what I was looking for, deep in the redwoods. It was so deep that when we left 101N onto 199E the overhang tall redwood trees completely blocked out the light. The redwoods were so thick and tall on this little one lane road that I had to turn on the headlights to see the winding road. It was like a trip in Disneyland it was so unreal. It seems that there are no roads for a 40 foot RV as it was almost impossible to navigate the sharp turns. The redwood trees were so close to the road that I was sure we would hit one or at least get the sides of the RV scratched as we drove by. We were once again hugging the right side of the road barley missing the giant redwood trees in the dark as we swerved around hairpin corners looking for oncoming traffic sneaking around the bend. All of a sudden there was a clearingÖwe had reached a small community with a gas station and a campground called Houchi RV Resort. Where the heck they got the name Resort from baffles me. We pulled the RV into a tiny driveway and drove up to the little office. On the office window was an actual photograph of a black bear taken by a previous camper with a small caption that said, ďWe have Black Bears on the property at night so please keep all food in your RV or in the provided trash bear proof bins.Ē This makes sense, after all we are deep, and I mean deep into the thick massive gigantic redwoods surrounded by millions of trees on the small surrounding hills near the campground. She said the bears come to the trash receptacles to hunt for food. What does she do? She parks us right next to a trash receptacle on the edge of the thick woods. I thought this was exciting to maybe catch a glimpse of a real black bear in the wilderness. My mind is running and my immediate plan was to wait till darkness fell , take the campground cat named Lucky, who belonged to the lady who checked us in, tie it to a tree as bait and wait for the black bear to come out to feast. However the kids caught on to my plan and it was nixed. Tonya was too big as bait, besides she would probably talk the poor bear to death. So I guess there will be no black bear sightings tonight. I kept my video camera close to the front, just in case. Anyway back to reality, today was a drive that I could do a thousand times and never tire of. Imagine this: Youíre driving on a very winding 101N on a small narrow road winding up and down the mountains surrounded by the just amazing tall thick redwood trees and occasionally breaking through and having a magnificent view of the very chilly and rocky coastal waters of the North Pacific Ocean on my left. As Iím driving, I could hear the large rouge waves crashing into the gigantic rocks on the cliffs below. Iím in RV heaven! We did stop at a pull over spot just south of Crescent City to take the kids to the cold waters of the Pacific Ocean. The roar of the waves crashing into the beach was deafening as it drowned out the yell of the kids running down the black and grey sands of the beach towards the ocean. I stopped to read a posted large yellow sign that said, ďDeadly waves and undertows, 4 people have died since 2001 from snatched wavesĒ. What the hell does that mean? I guess youíre just standing on the beach and a large wave comes up and snatches you. By the size of the large waves breaking fast and hard on the beach, I could somewhat understand. As we approached the waves I noticed a small dead seal on the beach, I guess it got snatched as well. It was smelly, but the kids enjoyed the sight of their first small seal sighting. As we set up the RV for the night I was just happy to be back into the redwoods again. The kids want to get on to the east coast to enjoy some warm weather. But we are on the west coast headed to Oregon. In my opinion the Oregon Coast is the most scenic and beautiful coastline of the whole United States, and Iíve traveled them all from top to bottom. Weíve got to go to Portland, Oregon to be able to cut across the top on Hwy 84 up to Hwy 90E. Tonya wants to immediately cut over to Interstate 5N which is a major road where the driving will be quicker and easier to reach Portland. But the real adventure begins tomorrow as I want to continue up 101N on the coast to view the majestic 400 and 500 foot cliffs as you drive the dangerous winding mountain edge roads. It is a very exhilarating drive that gives even the most adventuress drivers a real adrenaline rush. I may never get to see this again as we did 2 years ago. I may invoke my seldom used veto powers in the morning. As darkness nears and the bears come out I bid you farewell for the evening. Sleep well my friends as I will sleep with one eye open.


---
7/2/2010: RV Day 21 Tuesday Reno to Lodi

Miles Driven: 200

RV Day 21 Tuesday-Reno to Lodi, Ca Weíll today is our last day the Grand Sierra Resort in Reno. The RV was all gassed up and ready to go from yesterday, just as Iím ready to get the hell out of here. Weíve been here for one week today and Iím ready to get back on the road to untold adventures. Once again Tonya and the kids slept in till 9:30-10:00am. I ventured downstairs to watch all the people walk by checking out and others checking in. I grabbed a cup of coffee from the 2nd street cafť and watched the parade of various characters pass by on the own little individual missions. The kids had left some Xbox CD at Uncle Bobís house and he was going to run them by and drop them off at our RV this morning. I went back upstairs and woke everyone up to get the day started. All you have to do is open the massive curtains up and let the bright sunlight in. I never realized how much stuff we had in the hotel room until we started packing it all up to leave. I loaded myself up like a pack mule and everyone grabber a bag or two and we headed out to the RV. Since I had already checked us out in the VIP Guest Services we were finally ready to leave Reno. After we loaded up the RV we went back in to the Buffett for our last great breakfast. Bob dropped off our CD and we all thanked him and said our final goodbyes and we headed to 80W to Sacramento at 12:30am. A nice late start, but it was going to be a short drive to California. It was only 125 miles to Sacramento. The weather was absolutely stunning. Although the temperature was 100 degrees, there was no humidity at all. I can handle that. It was a very beautiful drive through the Truckee Pass through the Tahoe National Forrest on to the famous Donner Pass into California. The mountains were laden with tons of Pine trees and a lot of ground snow. Donner Pass is at an elevation of almost 7400 feet. There was a lot of road construction as the roads were real bad and the drive was slow. Once we hit the California state line we were required to stop at an Agriculture inspection station. The inspector asked if he could board our RV and check the refrigerator. Of course we said yes he could board, he did so and ask if we had any fruit or plants, we said no and he left. The inspectors were checking for Fruit flies, a deadly pest that has plagued California crops for decades. Any way we proceeded up and down and around the may beautiful mountains and valleys on our way to Sacramento. As we approached Sacramento Tonya started looking for a campground near Yosemite National Park. We had forgotten that this was the Fourth of July weekend. Everything was absolutely packed anywhere near Yosemite. We had no luck at all. Once we hit Sacramento we headed south on 99S, a small two lane highway. There were hundreds of grape fields on both sides of the roads. We decided to head south on 99 through Lodi, Stockton, Modesto, Turlock on down to Merced. After many calls, we couldnít find a Campsite so we pulled into a Raleyís grocery store off 99s in Lodi, California and parked the RV to figure out what to do. It was now almost 4:30pm and we were clueless what to do. I called a family meeting to discuss our situation. We could try again in the morning to find a location near Yosemite with 50m amps, or hit Hwy 5N and go on our way up into the Redwoods. We could literally spend 5 to 7 days trying to see Yosemite. We decided to find a local KOA near here and work on it in the morning. We found one off of 5N in Stockton. We turned around and drove to the Stockton-Delta KOA in San Joaquin County. This was one heck of a nice KOA which also had a boat Marina right on the lake as part of the campground. We checked in using our KOA points as we had accumulated over 35,000 points over the years. That is a ton of KOA visits. We got our $67 premium pull through site for free. As we hooked up we parked right next to a group of other local travelers who had nice new large RV. They had a big nice big $600,000 45 foot 3 axle Monaco quad slide and his traveling buddies had similar RVís. They invited me and the family over to join them for some BBQ ribs with all the fixings. We just met these people 15 minutes ago, and they were inviting us over for a nice big dinner and drinks. That is what I like about RVíing around the country; people are, for the most part, so nice. We joined them for dinner, talking and drinking beer, and then we headed back to our RV to get ready for the night. It was an Alvin and the Chipmunks movie night. Until tomorrow, sleep well my friend.


---
7/2/2010: RV Day 16 Thursday Reno

Miles Driven: 0

RV Day 16 Thursday Reno Today Bob picked me up and we went to Freightliner to pick up the RV and as I suspected they could not find the problem. What a waste of good money and time. Heck I could have gambled the money away at the casino and had a better time. I took the RV back to the casino and parked it. Meanwhile Bob found another RV repair shop in Reno called Reno Sparks RV and Auto repair center. We went to talk to them and for once I got to talk to someone who knew what the hell the real problem was. After 30 minutes of talking with Barry, I felt real comfortable with him. He told me the celloniod was out which on a diesel is built into the starter. Although you could short the starter to start it, the celloniod would overheat and short out and hence the RV would not start when turned off and back on when it was hot. I get it you stop for fuel after a long drive and it wonít restart. That sounds familiar. That is exactly what was happening. Barry tells me to bring it back at 8am Friday morning and he would get on it that day. He said he might not be able to find this starter locally and it might have to be expressed from Las Vegas. If that is the case it would not be ready until Monday as they are not open on Saturdays. Iíll know more tomorrow. On another side Bob took me to bank of America to replenish my cash funds. As I was there I showed the teller a $500 and a $1,000 bill that I carry with me to show off. The bank teller says he has two $1,000 bills that a customer just cashed in and he is waiting on earning some money so he can buy them from the bank. So Bob tells him we will loan him the cash to buy them and so he can sell them directly to me. How cool is that? One of the bills is a 1928 and one is a 1934, both were from the San Francisco district. They were both in a solid VF condition with no rips, tears or pinholes. The banker was a tough negotiator and we settled on $1,200 apiece. What a deal. The only drawback was the 1928 had a tellerís bank stamp on the face. Still at $1,200 apiece you canít go wrong. Anyway I bought both of them and had to write another check to replace the cash I just received and gave to him. Overall itís been a pretty good day for me. The weather here has really been cooperating as itís in the 70 to 80ís with no humidity and a real nice breeze. You could not ask for better weather. We hung out at Bobís house again and visited while the kids played their video games. Itís been another non-travel day and nothing new and exciting to report. I did have to go back to the Hotel and extend our stay for another 4 days. It looks like we are going to spend a week here in Reno while the RV is being repaired. Until tomorrow, sleep well my friends.


---
7/2/2010: RV day 20 Monday-Reno

Miles Driven: 0

RV Day 20 Monday 6/28/2010 Today is Jonathans surprise 13th birthday party at Bobís house. I was supposed to keep him occupied while Bob, Kay and Tonya decorated the house, wrapped gifts and hid them. Jonathan wanted some Dad and Son bonding time alone without anybody else. So it was his day. We started off by letting everyone sleep in. As usual I got up early went downstairs and got some coffee at 2nd street cafť and watched all the people. This place was busier that DFW airport, with just as many different kinds of people walking in every direction. Our plan was for Bob to pick everyone up together, drop me and Jonathan off at the RV repair center and take the rest of the family over to his house for the day. Jonathan and I would join them later in the day. Jonathan and I would finally have some time alone. We paid our $1,217 repair bill and drove back to the Hotel, stopping to get diesel on the way. I tipped the repair tech $100 cash for his services. It seems that everyone in this town has their hands open, and itís not to shake your hand but take what in it. There was a lot to do at the Grand Serra Resort; Kids Adventure Quest with hundreds of video games including a popular laser tag game, three types of race car driving outside, a 280 tall foot bunji swing and another enclosed bunji cradle that bounces you all over the place. We started off at the race cars driving around several time. They were very strict about even coming close to one another and placed guys all around the track to make sure this didnít happen, so in essence the race cars was boring. Jonathan met some girl at the racetrack that was from his school at Liberty Christian in Argyle, Texas that was here participating at the Junior National Volley Ball Championships. How strange was this? I introduced myself to the parents to find out whose kid it was. I forgot her name but she knew Madelyn, Nathan and Tonya. Tonya and her spoke on the phone while Jonathan eyed the 280 foot bunji swing. All the girls decided to walk over to the bunji swing, Jonathan followed along with me in tow. Jonathan wanted to ride the Bunji swing but I had just had a major back operation in January and there was no way I was going to ride this thing. The cost was $20 per person so I gave Jonathan $40 and told him to go find someone to ride it with him. There was lot of people there deciding if they wanted to try it, or not. I would take the pictures. After 20 minutes he come back and tell me that he canít find anyone to ride it with him and I would have to be his partner. I said no way was I going to do it. He reminded that it was his birthday party and I was supposed to be there for him and we needed some father and son bonding time. I looked up, closed my eyes and bought a ticket. Looking up at the 280 bunji gigantic metal tower was intimidating as it was a tall as the hotel. Here is how it works. Up to three people could ride at once. You put on a full body suit with hooks on the back side. You stood at the bottom while 3 bunji cords were hooked up to your backside and they lifted you a few feet off the ground until your feet could not touch the ground. You just lay there horizontally facing the ground while one of the 3 cords started pulling you backwards 280 feet up in the air towards the top of the metal tower. All you could see was the ground getting smaller and smaller. Jonathan was designated to pull the ripcord at the top as the guys on the ground counted 3, 2, 1 pull. As we neared the top Jonathan grabber my arm tight and the guys were real small then I could hear them countingÖthree, two, oneÖnothing happened. I look toward Jonathan, my gut in my hands to say something, and then he pulls the darn cord. The ropes just relax and you fall 120 mph towards the ground from 28 stories high. Talk about an adrenaline rush. My stomach came out of my mouth; I grabbed it and stuck it back down my throat as we fell toward the ground. Right as we were getting ready to hit the ground about 5 or 6 feet above the ground the bunji cords snap and we swing back out and up to 280 again like a pendulum back and forth until we slowed down. Then they unhook you and you wobble back to the staging pad to be unharnessed. What a fun rideÖ.if you a younger man. I canít believe I did it. Weíve got some photoís to show off later on as I tipped the guys to take pictures of it. Afterwards Jonathan went back to Kids Adventure Quest to play games with his friends for 4 hours while I played in the Casino. Later that day Bob, on schedule picked me and Jonathan up to go to his house. Tonya, Bob, Kay and Susan had decorated the house for a surprise birthday party for him. They had purchased 13 gifts, wrapped them, numbered them and hid them throughout the front and back yard. Jonathan had to find then, in order of sequence and then he could open them. As we walked through the front door and onto the back patio which was covered, everyone yelled, ďHappy BirthdayĒ! Jonathan was totally surprised and he blushed to show it. He them walked around the whole place looking for his 13 gifts. I videotaped it for later viewing. Of course Nathan and Madelyn helped him find and unwrap the gifts. It was a well planned and a lot of fun for everyone. He got exactly pretty much what he wanted for his birthday. He has spent the last 6 birthday on the road somewhere across the USA. We all had a piece of a very large birthday cake Bob had picked up from Costcoís. It was really a large cake with 13 small candles on it. We all hung out and later on we went back to the Casino where I had a good day at the tables. Thatís another story for later on. Until tomorrow my friend, sleep well.


---
7/2/2010: RV Day 17 Friday-Reno

Miles Driven: 0

RV Day 17 Friday- Reno Today I dropped off the RV to Barry at Reno RV Repair to try and get fixed for the third time. Barry swears itís the starter. After we dropped it off we went back to the Grand Sierra Resort to rest and work on a few items. In the mornings I usually go downstairs, get a cup of coffee from 2nd street cafť and watch the hundreds of people walk by. This coffee shop is located between the check in registration and the elevators. Grand Sierra Resorts , GSR as it is called, is Renoís largest Casio and Hotel with over 2,000 rooms, a very large convention center and has 28 floors and a whole new underworld beneath the Casino. This is a very large Las Vegas style Casino. Iíll try to explain what I see when Iím downstairs in the mornings as I have my coffee. Here is what is going on at the hotel this week. This Hotel is for the dogs. Iím not joking! They rent rooms to dogs for $30 per night per dog as long as they have a human owner who can afford it. Heck dogs rent rooms cheaper than humans do and they donít gamble. A lady in the elevator told me that the dogs even get a doggie bowl and treat every day delivered to their room. Doggie room service! They even have a doggie concierge floor, the 4th floor. As I sit here watching all these dogs walking through the casino I wonder if the casino security checks their IDís to see if they are 21 years old in doggie years? Anyway there are big dogs, little dogs, black dogs, white dogs, brown dogs, shaggy dogs, shaved dogs, Chinese dogs, poodles, chows and every dog you could think of, just walking around the hotel and casino like they own the place. I did notice that the owners had a leash on. The Girls Junior National Volleyball Championship is being hosted by the Grand Sierra Resort. There are thousands of 13 to 18 year-old girls, very tall girls walking around the hotel with their team uniforms proudly displayed. They always walk in team groups with parent chaperons nearby keeping a close eye on them. You can tell their parents are here as Iíve never seen so many tall people in one place. They are from all over the United States here to compete for the Junior National Volleyball Title for their respective age groups. The tournaments are being held downtown at the Reno Convention Center. In the evenings there are thousands of teeny-boppers running around the hotel with the latest fashions on looking for something to do. Did I mention that there is a Quilt and Stitching Convention going on downstairs in the large convention hall next to the escalators? For $6 per person you can go see the latest and greatest in the world of Quilts and Modern Stitching. It was actually well attended during the day and during the night you could see the exhibitors gathered around the penny slots drinking mixed teas and having a grand old time. And finally, there is the Extreme Auto Show going on this Saturday from 3pm till 10pm at night in the outside parking lot. This is a really cool exhibit of over one hundred of the coolest customize street racing cars from southern California. Every street gang from East LA and Compton was well represented. The paint jobs and chrome parts were very interesting as Iím sure every car told its own story of the owners past. And present. Actually these fine automobile had sponsors like: Verizon, US Sprint, Xbox and a lot of other major well known companies. Some of these automobile cost several hundred thousand dollars and many hundreds, maybe thousands of hours invested into them. During the show you could tell who built and owned the extreme cars as they were tattooed over 75% of their body and wore white muscle tee shirts with khaki pants as their girlfriends stood to their rear with their arms folded across their bodies. . There were no blue or red bandanas present as this was a neutral ground. The Auto Show looked like a scene from the ďGanglandĒ series you see late night on TV. However during the evening hours the Ladies really stood out with their skin tight, low cut black mini dresses, high heels and hair up in a mini beehive style. I thought they looked really classy with their boughs wearing nice khakis and cool hats. They pretty much hung by themselves at the casino. All this was going at the HOTEL at the same time and meanwhile your new visitors who had been invited to visit the casino on specially advertised junkets looked to fit in to this crowd somehow. I will go into further details on this in another blog. The rest of the day we went to Bobís house for another restful day of doing pretty much nothing as Bob prepared another fantastic meal for all of us.


---
7/2/2010: RV day 23 Thursday Mt Shasta to Fortuna, Ca

Miles Driven: 212

RV Day 23 Thursday Mt Shasta to Fortuna, Ca It was cold as hell last night. I was a bit warm and opened the two small windows in our bedroom and froze my n%@ís off last night as I opened two bedroom windows to stay cool. I didnít get up till almost 9am because it was so cold in the RV. We finally hit the road at 11am as usually and went back down interstate 5S to Redding with the intentions of catching 299 East to Eureka and the 12 South to Fortuna, Ca on 101S. The ride back to Redding from Mt Shasta was more beautiful and scenic than the ride up the mountain. It was a different and higher road than the one we took on the way into Mt Shasta. We were in the Trinity-Mt Shasta National Forest. Driving through the mountains with millions of mid size Pine trees covering every hill was just stunning. It was tough going as we got slowed down going up the many wind mountains and switched into low gear going down the 5% grades into the valleys. We once again passed over the high bridges spanning Shasta Lake with its beautiful deep blue waters covering the valley floors. This was truly a sight to behold. As we left the mountains we entered the City of Redding California heading towards 299W to Eureka on the coast. Redding was a really nice small city situated in the upper part of California centrally located. It was only 125 miles west to Eureka, a nice pleasant 2 to 2.5 hour drive. This anticipated drive was not to be as planned. We were in for a real surprise. Highway 299E goes west through the Klamath and Trinity Mountains national Forest. It is a one lane two way road all the way through the mountains. The road follows the beautiful, peaceful, pristine and serine Trinity River that flows completely through the mountains. The Trinity River rapids were outstanding in many places and you could hear the loud roar of the fast moving waters rushing over the rocks and all the while, I was trying to view the rafters running the river from the highway. One thing we did not anticipate was the incredible winding and twisting roads that went up and down all the way from Redding to Eureka. We drove up one mountain and down the other side and repeated this; it seems like a hundred times. Iíve never had a drive quite like this one. It was a constant left, right, up and down turn for the complete 125 miles. It took us almost 5 hours to go 100 miles. The turns were so sharp and steep we used Ĺ tanks of fuel or 50 gallons to go a mere 100 miles. I will admit the drive was just unbelievable in scenery and we had many sharp hairpin turns going up and down. I was hugging the mountain on the right and trying to view the river on the left and meanwhile watching the road with its oncoming traffic. I must have pulled over 100 times during the drive to let cars pass as the climbs were hard and steep. We averaged less than 15 MPH for the whole 125 miles. It was a tight fit for a 40 footer but passable at a very slow speed. I was amazed at all the real small communities stuck out in the middle of the woods with nothing else. It reminded me of driving through the Blue Ridge Mountains of Tennessee, Kentucky and West Virginia. Northern California is definitely a must see for those who appreciate pure nature at its finest. We reached Eureka on the coast after 5pm and headed south of Eureka on 101s a mere 18 miles to Fortuna RV Riverside Park. It was a very nice paved RV park with a lot of children amenities, including a heated pool. We once again got the last 40 foot 50 amp pull through for one night only. Tomorrow we go to the Redwoods, one of my favorite places to visit in California. We entered the Fortuna RV River walk Campsite, hooked up and the kids were off playing in the nice game room. They had a heated pool and playground for the kids. It was actually a very nice campground with all paved sites and a lot of tree for shade. You had a little yard with a picnic table and a tree. But they, like most campsites were booked for the 4th of July weekend. Tonight we are watching Percy Jackson and the Olympians, the Lightening Thief. Not my movie night. Until tomorrow, sleep well my friends.


---
7/2/2010: RV day 22 Wednesday Lodi to Mt Shasta

Miles Driven: 261

RV Day 22- Wednesday-Lodi to Mt Shasta, Calif. It was a nice warm day so I got up early and tried to catch up on my past week of missing blogs. The Reno stay really put us way behind our schedule. Itís 6:30 am and everyone is still asleep so I took my notebook and went outside to sit down and work on my blog. There was a lot of activity for so early in the morning. A lot of people were leaving. I let everyone sleep until 10:00 and woke them up as we had to be out by 11am. Today I think we are going to go up Interstate 5N through Sacramento again towards Redding. From there we are either going about 60 miles further up to the Mt. Shasta KOA or cut over from Redding on 299 East and go towards the Eureka KOA on the west coast. Weíll see how it goes later as we are in no hurry to go anywhereÖjust north for now. As we heads out on interstate 5N Jonathan, the birthday boy wanted to stop at any Dennyís for his birthday breakfast. So we stopped just north of Sacramento at a Dennyís for lunch. I must say they had the largest servings of food Iíve ever had at any Dennyís, anywhere. Today is a very uneventful day as the drive was pretty much boring as far as any sights go. You could make out the mountains in the faint background. Interstate 5 is a two lane road except when you hit a mid size city it changes to a three lane and back down to a two lane once you exit the city. There was an inordinate amount of Semiís going both directions as this is the main road that services both North and Southern California. Many grape vines and apricot and olive trees were scattered out on both sides of the road. There were some other tree orchards and fields of various plants that I could not identify. I noticed that there were a lot of large billboards on the roadside advertising the ďOlive PittĒ store in Corning, Calif. I ask Tonya if she wanted to stop and visit this store as I know she likes to cook with Olive Oil. This was an Olive Mecca as they had pretty much any item that had to do with Olives. This place was huge and was packed with people from all over the state. They had thousands of cans and jars of every type of olive known to man. This large store had: olive candy, olive nuts, and olives with chocolate, olive chips, olive jellies, olive magnets, olive spices, olive clothes, olive trinkets, olive ice cream and olive oils of various types. We were in Olive hell. An hour later I carried a bunch of olive stuff to the RV and we refueled and headed back North again. Overall it was pretty much a boring drive. As we got close to Redding, Tonya called the Mt Shasta KOA and got the last RV spot they had for one night. After that they were booked for the week. Mt Shasta is Californiaís premier ski destination during the winter. Once we left Redding the scenery as we decided to spend the night at the KOA in Mt Shasta. Mt Shasta is over 14,150 feet tall and is completely snow covered. We stayed in the city of Mt Shasta which is at the base of the mountain. The drive from Redding was absolutely stunning and beautiful with all the Pine trees thick on both sides of the mountains as we drove the winding road up and into the Cascade Mountains toward the stunning Mt Shasta. We passed over several high bridges that span the beautiful dark blue waters of cold Lake Shasta. Lake Shasta was formed by the snow melting off Mt Shasta and filling the low lying valleyís below. This large lake snaked around several mountains with a lot of large marinas below. Totally beautifully! We took exit 738 and headed for downtown Mt Shasta City. Not much there to see, but it was small, clean, quaint and beautifully laid out. We pulled into the KOA about Ĺ miles north of the city about 6:30 and checked in. The KOA was so-so at best and our site sucked. The kids liked it because they had two play grounds and video games at the store. Anyway the view is to die for as we are literally right next to the mountain. You cannot see the top of Mt Shasta as the top is in the clouds. Weíll see how tonight goes and decide what to do tomorrow. Until tomorrow, sleep well my friend.


---
6/25/2010: RV Day 16 Reno

Miles Driven: 0

RV Day 16 Thursday Reno. Today Bob picked me up and we went to Freightliner to pick up the RV and as I suspected they could not find the problem. What a waste of good money and time. Heck I could have gambled the money away at the casino and had a better time. I took the RV back to the casino and parked it. Meanwhile Bob found another RV repair shop in Reno called Reno Sparks RV and Auto repair center. We went to talk to them and for once I got to talk to someone who knew what the hell the real problem was. After 30 minutes of talking with Barry, I felt real comfortable with him. He told me the celloniod was out which on a diesel is built into the starter. Although you could short the starter to start it, the celloniod would overheat and short out and hence the RV would not start when turned off and back on when it was hot. I get it you stop for fuel after a long drive and it wonít restart. That sounds familiar. That is exactly what was happening. Barry tells me to bring it back at 8am Friday morning and he would get on it that day. He said he might not be able to find this starter locally and it might have to be expressed from Las Vegas. If that is the case it would not be ready until Monday as they are not open on Saturdays. Iíll know more tomorrow.

On another side Bob took me to bank of America to replenish my cash funds. As I was there I showed the teller a $500 and a $1,000 bill that I carry with me to show off. The bank teller says he has two $1,000 bills that a customer just cashed in and he is waiting on earning some money so he can buy them from the bank. So Bob tells him we will loan him the cash to buy them and so he can sell them to me. How cool is that one of the bills is a 1928 and one is a 1934, both were from the San Francisco district. They were both in a solid VF condition with no rips, tears or pinholes. The banker was a tough negotiator and we settled on $1200 apiece. What a deal. The only drawback was the 1928 had a tellerís bank stamp on the face. Still at $1200 apiece you canít go wrong. Anyway I bought both of them and had to write another check to replace the cash I just got. Overall itís been a pretty good day for me.

The weather here has really been cooperating as itís in the 70 to 80ís with no humidity and a real nice breeze. You could not ask for better weather. We hung out at Bobís house again and visited while the kids played their video games. Itís been another non-travel day and nothing new and exciting to report.

I did have to go back to the Hotel and extend our stay for another 4 days. It looks like we are going to spend a week here in Reno while the RV is being repaired. Until tomorrow, sleep well my friends.


---
6/25/2010: RV Day 15 Reno

Miles Driven: 0

RV day 15 Wednesday We went back to check on the RV and the Freightliner people are idiots. They are clueless about what is going on with the RV. You would think being the manufacturer of the Chassis they would be able to hook it up to a computer and check it out or something. They cannot duplicate the problem so they canít fix what they cannot find. I left the RV dead in their service bay and they still canít fix it.

I will give them until tomorrow to find and fix the problem. Then Iíll look elsewhere. I doubt they will be able to fix it as they are stupid or either they donít care. Anyway there isnít too much to report as we once again spent the Day relaxing at Bob and Kayís house. Hell there isnít any reason to go out to eat as Bob once again prepares the best meals in town. I think Bob and I are going to go out and get drunk tonight. The kids are happy as they brought their video games with them. So all is good for another relaxing today. So once again, until tomorrow, sleep well my friends.


---
6/25/2010: RV Day 14 Reno

Miles Driven: 0

RV day 14 Tuesday Reno As usual I got up early and went downstairs to the Casino to get some coffee. My brother Bob was to pick me up to take me to Freightliner for our scheduled appointment. I dropped the RV off to Freightliner service center and sure enough when I got there it wouldnít start. That made them happy as they said it would be easy for the techs to trace once it was dead. After that we took the kids to Adventure Quest at Grand Sierra Resort and played laser tag, video games and other games most of the day. Afterwards we went to my brotherís house for dinner and hung out and did absolutely nothing the rest of the afternoon. Bob and Kay his wife are the most gracious hosts in the world. Bob is a master cook and he prepares the most wonderful exotic meals that you can imagine. His wife Kay, make the best cocktails on the west coast. She is a total hoot. I really enjoy their company while they listen to our BS RV adventures. Today was not exciting for traveling but it sure was nice to kick back and relax and just shoot the bull with some really cool people.

We did drive around Reno and check out some of the different Casinos. Reno is a very nice quaint down with a lot of history. You can see the California Mountains from a distance. The weather is absolutely wonderful with no humidity. This down time gave me the time to catch up on my blogs as I am several days behind. Until tomorrow sleep well my friend.


---
6/25/2010: RV day 13 Monday

Miles Driven: 517

RV Day 13 Monday. It is a beautiful day as we checked out of the KOA in Salt Lake City early in anticipation of a long 520 mile drive to Reno via 80W. We hit the road at 8:30am, the earliest we have ever left a campground. Weíve been lucky so far as we have been on the road 13 days and not one issue. Maybe I shouldnít speak to early as 13 is not my favorite number. Earlier we decided to drive straight through to Reno because I wanted to visit my brother Bob who lived in Reno. Besides, there were only a couple of places to stay in between. This was to be a long day for me driving the 520 miles. I figured about 10 hours with the gas stops and a few stops for the kids to eat and stretch out. I was going to set the cruise control on 75mph and cruise into Reno ahead of schedule.

As we left Salt Lake City it is hard to miss the white salt residue along side of the Great Salt Lake. We drove for hours and it was still there. It looked like a sea of white sand with the mountains in the background.

Our First stop for fuel was to be Elko, Nevada as it was almost half way to Reno. We could not find a large truck stop off the highway so we decided to go another 40 miles and stop at exit 380 at a Pilot Truck Stop in Carlin, Nevada. We pulled into lane one next to the store entrance and fueled up and bought a few Subway sandwiches for the road. As I turned the ignition to start the engine, nothing happened. I tried several more time and the engine would not start. There was no sound, no clicking of the started, just nothing. Great, were parked right up front on pump one, trucks are in line behind us and I cannot get this RV started.

All these truck drivers are passing by us looking up and thinking was a dumb ass I was. I sent Jonathan to tell the truckers behind us that we were having problems and they might need to move to another pump line. I tried everything I could think of and still I could not get it started. After about 45 minutes we called our roadside service and they said they could try to have us towed sometime today. What, were in Carlin, Nevada, out in the middle of nowhere and they are going to tow us where? I told them to take a hike. A truck driver passed by us on the way out of the store to his rig and gave me a piece of paper with 2 phone numbers he had copied down from inside the store. He said these were RV repair tech from Elko, Nevada.

We had been parked in this Pilot truck stop blocking their number one pump for over an hour, so Tonya gave this guy a call. We waited for another 45 minutes for him to show up. He was a very young guy and had driven from Elko. He was sharp as a tack and upon arrival he immediately started trying to trace down the electrical problem. The fuse box was fine; the ignition switch was good, now to the back, under the RV to the starter. Nothing was going good. Finally he hotwires the starter so we can move it out of line one to the parking lot to further check it out.

As far as the engine was running we were fine, turn it off and it would not start. The tech thought it was in the wiring and said without a schematic of the wiring, he could not help us. After almost three hours I told him to hotwire the starter once again and we would head on into Reno where my brother Bob had found a Freightliner shop who could work on our Chassis problem. Our RV has a CAT 350 engine and a Freightliner Chassis. I graciously paid the man with a nice tip and we headed to Reno, with no intention of turning off the engine until we reached the Grand Sierra Resort and Casino in Reno. We pulled into the Grand Sierra Resort and Casino at 7pm and check into the Hotel. I had to park the RV in the back parking lot with the big rigs for the night. I had set up an appointment with Freightliner for the next day to get the RV worked on.

The Grand Sierra Resort and Casino was a very large complex with over 2,000 rooms and a very large Casino, Convention arena and a very important and large ďAdventure LandĒ area for the kids under the hotel itself. Bob had recommended this place because it was kid friendly. It was also a dog hotel, but I will get into that later on. We booked a very nice suite on the 26th floor for three day while the RV was being worked on.

It was getting late so we went downstairs had a very nice dinner and headed to our room for the night as everyone, including myself had experienced a very draining day. The kids were very excited as to be staying in a place with so much excitement all around them. They couldnít wait until tomorrow to go to Adventure Land. I felt as Tonya and I had just been through an Adventure Land. Although we might be broken down for now, Reno was a nice place to be broken down in. Weíll talk tomorrow so for now as it is late. So much for 13 being my lucky number! So until tomorrow, sleep well my friend, as I surly will.


---
6/25/2010: RV Day 12 Sunday

Miles Driven: 239

RV Day 12 Sunday Today was a special day for me as it was Fatherís Day and also it was Tonya and mine 18 wedding anniversary. Itís been 18 wonderful years! Tonya and the kid got me a beautiful Bulova watch, which I really needed. Since I lost my Rolex last Thanksgiving, Iíve been asking them hourly about what time it is. I canít read the dials but it looks cool.

Last night I had dreams of driving the Jeep off the edge of the Shafer Trail, and then I woke up and realized I was still alive. Every time I was ready to hit the bottom, I woke up and started over again. Finally I just stayed up and prepared for todayís departure for Salt Lake City drive. After we got the jeep cleaned up I followed Tonya in the RV to the Jeep rental location to drop off the Jeep. We then headed back up to 70W again towards 15N which runs up to Salt Lake City. I was pleasantly surprised how diverse and beautiful Utah was. The scenery was quite different through the drive. We encountered some jagged looking white mountains that reminded me of windblown hills, as they were very pointed and jagged leaning to the right as they reached for the sky.

As we were approaching 15N off of 70W I noticed a large billboard that said ďMomís World Famous Home Cooking RestaurantĒ, 5 miles ahead in Salinas. Well how could anyone who was a little hungry pass on that offering? Everybody likes Mom home cooking. We always like to try local favorites as we travel around the USA. So I exit and turn right and proceed slowly down the street to Salinas, Utah. Salinas is literally a one flashing red stop-light town. On the right side on Main Street, next to the only stop light in town stood this brown square two story brick building. The side of the building was painted advertising the name and address of Momís. We parked our RV across the street in an unpaved parking lot and walked across the street to indulge into Momís menu of world famous grub.

As we entered in the back or side door we were greeted by an older lady who was a dish water blonde California Valley Girl in her younger life. She told me in a southern drawl to take the kids find a table and sit down somewhere and sheíd be back in a minute. So we did just that. It was a very small restaurant without any windows and had a somewhat stuffy atmosphere. The walls were covered with brown newspaper clippings about the restaurant when it was in its glory days many years ago. The restaurant was divided into two seating areas separated by a salad bar isle. We sat in the back as the locals had taken up the front area tables and the bar stool counter. After several minutes of waiting for valley girl to return as she had promised, I helped myself to the salad bar.

You could look around at the patrons dressed like they were right out of the 50ís and tell that this was a local joint. Valley girl returns to us and proceeds to tell us her life story about how she left California many years ago stopped here for a few days and never left. After her storyline we all order some grub and I decided to try a Chicken fried steak once again. Big mistake again. Does anyone outside of Texas even know what a chicken fried steak is? The last place in Moab didnít even bread it. Iím not even sure what I got. It definitely wasnít Chicken Fried steak. It was a square piece of brown meat with brown gravy under the meat. Who knows, maybe they forgot to put the gravy on top of it. After a few minutes a very large short man walks out of the kitchen and starts talking to a very short large woman who had sat next to us with another woman. He obviously was the owner as I could see his picture in the old wallpaper clippings. I guess he was on a break and wanted to visit his regular customers. He stood next to our table blocking the light and walkway. As he leaned over to talk to this lady his butt was right next to me. Itís bad enough the food was ďinterestingĒ, now I had to look at his big ass butt and right next to me as I ate. I loudly excused myself and he had to shift his bodacious butt and body to the other side of her table. I was ready to go. We politely said goodbye to Valley Girl, paid our tab and exited the side door that we originally came in. I was so distraught when I drove off that I missed my turn and had to drive a few miles down the wrong road, turn around and pass Momís famous Big Butt restaurant once again. It a very interesting place, to say the least. If youíre ever in the area, try it.

We had exited 70W in Salina and took 50W at the only red light next to Momís. I noticed 50 W was a shortcut to 15N to Provo and Salt Lake City. The road was a two lane road and the scenery was magnificent. There were sparsely located farm houses way off the road with treeless green pastures and small dark blue lakes with mountains in the back ground. It was very beautiful. After a few miles we once again hit a small rundown community with a wedding taking place along the side of the road. We quietly zigzagged through town on to 15N to Provo. Once we hit 15N I noticed for the first time ever the speed limit was 80MPH. I had never ever seen this before, anywhere in the USA. After we neared Provo the traffic started backing up. This was a Sunday there shouldnít be any rush hour traffic. It seems that they were doing some major construction and four lanes we being reduced to one lane. It took us about 2 Ĺ hours to go 5 miles. Once past that we drove through Provo straight into Salt Lake City.

Salt Lake City is a beautiful City situated right up next to the snow capped mountains. We didnít tour the downtown area as it was getting late and we needed to get to the KOA campsite. We pulled into the KOA, check in, had dinner, watched a movie and rested for the evening. We did all play a little football before we called it a night. This actually was a pretty good day for us as we had no major problems.

Tomorrow we are going to attempt the dreaded 520 mile LONG DRIVE from Salt Lake City to Reno Nevada. Until tomorrow, sleep well my friend.


---
6/25/2010: RV Day 11 Saturday

Miles Driven: 0

RV Day 11 Saturday. I once again got up at 6am and went outside to work on my diary. It was a beautiful day and the weather was cooperating with everyone. I went over to tent city to watch all the people tearing down their sites and getting ready for their day in the mountains. Most of the visitors there were there to go four wheeling in the mountains or visit the Arches and Canyonland National Parks. I couldnít wait to take this bad boy Jeep in the hills. As we headed first up to the Arches, we stopped and paid our $10 entry fee to the Park Ranger and we headed up the mountain to see the famous Arches. The Arches that has been featured on Nat Geo many times, it is quite impressive. After awhile the incredible rock formations start to take shapes that only the mind can imagine. Tonya and I took many photos that I will post soon. We just need some free time to post them. We all took an hour hike up to see the most famous of all the Arches, The Landscape Arch. It was worth the hike.

Death Ride:

I have traveled this magnificent USA pretty thoroughly l and traveled to many third world counties a few times in search of exciting things to do, mostly in my younger days. I consider myself a somewhat amateur adventurer and willing to try almost anything once, within reason. I like to prepare myself, in detail with as much advance notice as I can get for what challenge I choose to undertake. Today I experienced the most exhilarating and thrilling road trip of my lifetime. What makes it so thrilling is I was not expecting it, nor did I see it coming.

I mentioned earlier that I rented a 4X4 new jeep for the day to go four wheeling. As we entered to Canyonlands National Park we stopped by the Rangers office and I went inside to ask the Park Ranger if there was any off road trails we could take on our way back to Moab. She asks me if I was real adventurous and if I had any problem with vertigo? I said I had no problems with heights, knowing darn well Tonya was scared to death of heights. I was excited to death to try anything that would get Tonya on the edge. The ranger then asks me if I had a good four wheel vehicle with high wheel clearance. No problem I replied. She said there was this special road about up the road a few miles called Shaffer Trail Road. We followed her directions Shaffer Road and turned right on to a hard dirt road. Shafer Trail as it is known is a trail, not a road and has no guard rails anywhere. It was founded many years ago as a goat and livestock trail to get the animals up and down the mountain.

There was a makeshift gate that was swung open and there was a few warning signs along very rock the road about this road being hazardous. I stopped the jeep and excitedly put the gear in to low 4 wheel drive and proceed on with anticipation of a cool bumpy ride. No big deal. I was wondering why there were so many continuing warning signs. The Park Ranger said it was only a two and a half hour drive down the big canyon back to Moab, and it was only 4pm. Not only were we going to see the canyon, we were going to experience them firsthand. It started off as a nice drive, nothing to get freaked out about. As we headed further down the extremely rocky and bumpy road I notice the road begin to get smaller as we rounded the mountain. Boy did it get smaller, quickly! The road was just about two feet wider than the Jeep and it was a sheer 3,500 to 4,000 foot drop off, straight down to the canyon floor. The drop off was on the driverís side and the mountain was on the passenger side. I could not believe what I had got us into. I was shocked how narrow the road was. I was driving 2 to 3 MPH on a bumpy road trying to stay close as I could to the mountain without scratching the jeep, all the while carefully watching the left front wheel as not to get to close to the edge, which was about 18 inches away from a sheer 4,000 foot drop off. Tonya was hysterical as she is scared to death of heights. She was in the front passenger side with her eyes closed, gripping the front handrail so hard her knuckles were turning white. I ask her to video tape the ride but she refused saying she was not having as good time. Jonathan jumped into the back seat to videotape this unreal ride.

I could not take my eyes or hands off the road as one little mistake or slip and youíre a goner over the edge. I would occasionally stop the Jeep so I could enjoy the panoramic view of the whole valley floor. As we drove ever so slowly the road suddenly makes a 180 degree hairpin turn to the left and dropped down about 200 feet and leveled out again till the next hairpin turn then drops down again as we snake our way down to the bottom. This must have been at least a 15% grade. I must admit I was a little bit scared as I was not mentally prepared for this type of adrenaline rush. This top part of the trail is known as the ďSchafer SwitchbackĒ which consists of many u-turns in the road as the road declines to the canyon floor. The drop on the Switchback was the scariest part as the loose gravel on the road could easy cause the Jeep to slide right off the edge on the downward curve.

As we reached the near bottom the dirt road remained very bumpy but there were some unbelievable close-up views of the cliffs and mountains which consisted of many different rock formations. This lasted for about two hours, driving every so slow until we hit Potash road leading back to Moab. I didnít have the opportunity to take many pictures as I had both hands on the wheel for most of the ride. Tonya and Jonathan did get some good shots and I will try to post some of their photos later on. Also Iíve discovered that there are many videos and cool pictures detailing the Shafer Trail in Moab Utah on You Tube. You got to check this out on the internet to believe it. Type in: Shafer Trail, Moab Utah. You will enjoy the videos and experience what we did, to an extent. One thing about this drive, once you start there is no turning back as there is no place to turn around. Iíve always wondered what would happen if we had met someone driving up the other way. There simply isnít enough room for two vehicles to pass, at least not on the switchbacks. I assure you I would have taken the inside route.

I have since talked to several people who have drove the world famous Shafer Trail and even read quite a few articles about this trail on the internet, they all agree to several things to consider before driving this trail: Always without exception have a 4 wheel drive with high clearance, never drive this trail at night or in bad weather, never take the down route (Like we did), make peace with your God and take a change of underwear. That pretty much says it all!

END RESULT! I loved the experience and I would do it again. I would have like to have a professional driver or at least a experienced drive who has driven this goat trail and I would definitely like to personally videotape this ride of a lifetime.

After we hit the 279 route back to Moab we went out to eat at a local Moab Diner, who couldnít cook a Chicken fried steak, and reflected on ďThe RideĒ.


---
6/18/2010: RV Day 10

Miles Driven: 5

RV Day 10 Friday. You have to get up pretty early to beat the sunrise here, as I am up a 6am and the sun is already brightly shinning over the Eastern Mountains directly behind us and shinning gloriously over our campsite onto the Westerns Mountains. Our campsite has not received any of the warm rays yet, as Moab is nested down low between both mountains. The jagged Western Mountain side with its red clay hue is the only object lit up like a lamp and cast giant shadows from the protruding rocks on half of the mountain, making for an impressive postcard picture to send home. However, besides me, there is no one here to view it within eyesight.

There is an eerie silence throughout the campground as both adults and kids remain fast asleep inside their campers and tents, probably from the prior nightís activities. As we are in the mountains, the night does leave a slight cold frost on everything for the early morning sun to burn off. Other words, itís damn cold or as some would say, a bit chilly. I have on shorts and a jacket with my dirty crocks on. As I sit here at my camp side picnic bench writing this blog on my notebook and drinking my first cup of watered down instant coffee, the sprinklers nearby suddenly come on without any warning: soaking me, my notebook and all my spread out maps and notes. By the time I gather up all my belongings, it is too late to keep me and my stuff dry. I angrily grab all my wet limp papers and notebook and head back into the dark RV, soaking wet. In the dark I attempt to wipe down my notebook, phone and myself, comically laughing at what just happened. It is too early to take a shower as I would wake everyone up. So I sit here in the dark, wet and cold to continue writing my blog. Such dedication!

In my family, I own the early mornings as everyone else always sleeps in. This is my private time to reflect on the previous dayís activities and plan for tomorrows activities. I cherish this time alone as there are no distractions to block my thoughts. Damn Iím still cold as the AC is on in the RV.

Today we are relocating to a new RV camp several miles down the road in the middle of Moab. We donít have to be there until 11am so Iíll let them sleep in. Jonathan is sad as he will have to say goodbye to his new friends.

Early Morning Thoughts on cross country RVíing:

For those of you who have yet to experience cross-country camping or RVíing I would like to make a few interesting observations. For the last 6 years, me and my family take off every summer and travel all over the United States. We have camped in every state except North Dakota, which we will do this year. Our 8 year-old twins, Madelyn and Nathan have never experienced a summer at home that they remember. As we travel and camp at different places, the kids makes new friends that they spend several days socializing and playing with. When it is time to move on, it sometimes becomes difficult for young kids to say goodbye to their new friends. In many instances they begin to cry and beg us to stay a day or two longer so they can stay and play with their new friends. That is exactly what happened yesterday as Jonathan wanted to stay at this location one more night so he could play with his friends. Sometimes it is very hard for kids, especially as they get older to make new friends at a fun place and all of a sudden leave them. As a family, we have met a lot of other camping families that we have stayed in contact with over the years. But as we look back, these are precious moments made into memories to cherish for a lifetime. Hopefully the kids will someday when they are adults, look back, read my diaries and view the photosÖ.and simply say, ďGosh I had a great time when I was a kidÖ traveling and camping all over the U.S. with my familyĒ. My advice to you, just grab the kids and go, before they get too old, you wonít regret it.

Itís 9am and the family is still asleep. I can now see other families packing up their RVís and 5th wheelers ready to go over the mountains to a new adventure. I think Iíll go walk around the camp to the office, grab a fresh cup of coffee and see whatís happening. Itís such a rough life on the road. Iíll talk to you later this afternoon as we move to our new campsite and head into town.

As we pulled into our new campground around 11amthe first thing I noticed was all the very large cottonwood trees, which were in the hundreds through the camp shedding its white snowflakes through the camp falling like thick snow. It was an incredible show. It was snowing white cottonwood flakes so thick it was getting into the RV.

I rented this new 4X4 Red 4-door Jeep today and picked it up around 3:30pm. Tomorrow I want to do a little four wheeling in the mountains. After I picked up the jeep I went back to the RV and picked up the family to drive around town. We heard about the ďHole in the RockĒ 12 miles north of the city. This place was incredibly wild. In the 1940ís a man and his wife who owned a part of a mountain decided to build a Diner and a house into the side of this Red sandstone mountain. He was a ex miner by trade so he commenced to use dynamite to create a hole into the side of the mountain and started drilling and digging for years until he had created a 5,000 square foot house into the side of the mountain. For $22 all five of us took a 15 minute tour of the inside of this amazing house. You could see the chisel marks on the walls and sides and an occasional hole drilled for dynamite. There were 14 rooms with and two bathrooms. After 12 years of hard labor, they moved into the house in 1952. He died in late 1957 and she died in 1974. She continued his work after he died. The estate sold the house and property nine years ago to a group of investors. Check it out on the internet as it is pretty interesting to say the least. The internet website is www.holeintherock.com.

When we returned to the campsite there were hundreds of tent campers and motorcycle campers parking and setting up their tents and socializing with each other as if they were friends forever. It reminded me of a scene from John Steinbeckís 1930ís novel, ďThe Grapes of WrathĒ. There were literally hundreds of people setting up camp before the darkness cheeped into camp. You could hear dogs barking in the background as women were wondering around the campground cradling small babies crying for food or attention in one arm while walking a small toddler with the other. Some of the younger boys and girls were attempting to light campfires and bringing out food and drinks as they prepared for the evening meal. The men were working feverishly together to finish erect the many multicolored tents it would require to house the families for the night. Meanwhile at the nearby playground, younger kids had banded together to play games with each other as if they didnít have a care in the world. As darkness finally covers the campground, you could see the embers from the fires reaching for the sky as families sat nearby on makeshift seat discussing todayís activities. The nearby showers and toilets were packed as people we making last minute visits before calling it a night. One guy had a green and red laser that he had shinning up into a nearby tree putting on a laser show that was reminiscent of a Christmas display. It was a beautiful sight.

One of the more interesting tent sites I saw was a family across from us. He had a long flatbed trailer hooked up to a beautiful red 4X4 2500 Dodge Ram truck. On the back of the trailer he set up his nice tent to keep it off the ground. It was a most ingenious arrangement as he had no problems with hard grounds or wandering bugs. I met him and his family as they headed out to do some 4 wheeling behind Mc Donaldís on a 5 hour 4X4trek. He was from Salt Lake City and worked for a software company. Well itís late and time to go watch a movie. Until tomorrow, sleep well my friend.


---
6/17/2010: RV Day 9

Miles Driven: 0

RV Day 9 Thursday. Today is a non-travel day for all of us. We needed this day so we can relax and do nothing. We do have to unhook and slide in to move our RV 15 feet back to a new spot because someone else has this spot reserved for the next four days. It is a small but necessary hassle. The kids and Tonya are going swimming, playing miniature golf, horseshoes or large chess or checkers. Jonathan is hanging with some newfound buddies and a cute 13 year-old girl named Emily from New Mexico. Meanwhile Iím working on my travel diary and taking care of some currency business back home. My fileserver went out back in Dallas (it overheated) and Nancy and Brandon spent yesterday getting it back up so I could log on and continue my work.

It is somewhat warm here today in Moab, up to 91 degrees in the afternoon. Tomorrow, Friday we are moving to a new campground for a couple of days called Canyonlands RV Campground located in the middle of downtown Moab. Tonya will be able to walk straight out the front into the downtown shopping district. She should really appreciate that. I also rented a new 4X4 2-door Jeep for all day Saturday. It supposedly holds 5 adults comfortably. We are going to get up early Saturday and go check out The Arches and Canyonlands National Parks. With the 4X4 off-road Jeep we will be able to go off road to see some of the spectacular sights that you cannot see without hiking or bicycling into the canyons. At $200 a day I find it a bit expensive, but it is cheaper than paying for a tour for 5 people. Beside they give you a nice recommended map with a recommended route to take, plus a full cooler of iced down bottled water.

I did a little research on Moab and it seems that it takes its name from a Biblical location on an area of land on the eastern side of the Jordan River. It was settled in 1878 and incorporated in 1902. At an elevation of 4,026í and a 2000 population of 4,779 and is located on the eastern part of Utah off Hwy 70, and it is 324 miles from Salt Lake city and 325 miles from Denver. Uranium was discovered nearby in the 1950ís and now Moab is known as the ďUranium Capital of the United statesĒ.

Because of the obvious spectacular views and western style location, Moab has also been the site for many movies including: Rio Grande, The Comancheros, The Greatest Story Ever Told, Once Upon a Time in the West, Indiana Jones and the Last Crusade, Thelma and Louise, City Slickers, Mission Impossible II and Austin Powers in Goldmember and many more. Most of the flicks were early western movies directed by the famous Western Director; John Ford.

As dusk approaches, it finds us watching the sun disappear into the magnificent sunset. Tonya is busy preparing her famous Dutch oven baked lazy peach cobbler cooked over coals in an iron pot. I can smell the aroma of the cobbler as the final breaths of sunlight reflects its burnt orange rays on the red clay cliffs. As the sun finally sets and darkness creep in, the whole camp smells of various campfires cooking their favorite open fire meals and the young kids playing football with their dads in the gravel streets. As if on cue, the older kids gather together at a predetermined spot to decide their late night activities. As darkness finally sets upon us, the camp lights magically come on and the night crowd lethargically sneaks out into the cover of darkness. Small kids disappear into campers and tents to be immediately replaced with freshly showered adults with a drink in hand, ready to meet their neighbors they have unintentionally ignored all day. This is typical camper life on the road. Until tomorrow, sleep well my friends.


---
6/17/2010: RV day 8

Miles Driven: 297

RV Day 8 Wednesday I got up a bit late today at 7:30 and went outside to visit the nice view of the spiraled snow capped peaks once again before we left. As we drive westward, the mountains will be much different and less spectacular than those found here in Breckenridge. I also noticed that some of the trees were brown and dying due to the deadly Pine Beetle bug that has plagued the Rockies for many years. The lower trees were mostly Pine and Junipers and further up in elevation you will come across Fir trees and at the highest levels near the top you will find the Spruce and some of the more hardy Fir trees. Most of them are around 20 to 30 feet and are referred to as dwarf trees.

As we got back on 70 West and headed toward Vail I noticed the mountains became less impressive and more subtle. I was not too impressed with Vail as it looked like a small spread out community with a lot of condos. Anyway we trucked on down the road through Eagle down through Greenwood Springs and we decided to stop in Rifle at the local Wallyworld for some supplies. These towns are all small local communities with not much more than a few services. Rifle was actually a larger spread out city with a lot going on. As we travel down 70W were following the winding Colorado River as it snaked back and forth across our path many times. Highway 70 is a two lane highway in both directions and it seems to be well paved and maintained by the state. Iíve seen much worse.

After we resupplied at Wal-Mart we headed on back down 70W toward Grand Junction, the last major outpost in Colorado. I noticed the mountains were much smaller and less dynamic. They were smaller and more rounded with very few trees. It looked almost like you were driving through Arizona, only greener. We encountered a major eastbound wreck (photo enclosed) of a large Semi trailer that overturned onto its side and was carrying many large pieces of glass. The east bound traffic was completely stopped for over 5 miles back. People were just parked and were out of their vehicles socializing with other motorist. It must have been a 4 to 5 hour job to remove the rig as it was blocking both lanes of the eastbound traffic. Glass was scattered on both sides of the freeway as police were on site inspecting the situation. I believe the rig was blown over as the wind was very strong and I was having a very difficult time keeping the RV on the road. It must have been blowing 40-50mph.I had to slow down to 45 to 50mph to maintain control of the RV. I canít believe the speed limit was 75mph through the mountains.

Glenwood Canyons has to be one of the more spectacular drives Iíve ever experienced. The road was narrow as the canyon walls on both sides rose 200 to 400 feet on both sides as the Colorado River snaked alongside us at the bottom of the gorge. I truly felt so very tiny as we drove through the tall winding canyons. I can visualize Native Indians standing on the very top ledges shooting bow and arrows at the explorers below as they maneuvered their way along the Colorado River in their boats desperately seeking refuge further downstream. The photos will give you a better description than one I could ever describe. As we left the impressive canyons, the terrain got much flatter and the round topped mountains were many miles from the road. The winds got even stronger than before moving large rigs all over the road. Driving was very hazardous.

We passed through Grand Junction Colorado and continued on into Rabbit Valley just across the Utah border on toward Moab, UT. Again the terrain featured distain plateaus as if we were in New Mexico or Arizona on 40W, with the exception of a lot greener with very few if any trees. Once we hit 91S at exit 380 we turned south and drove 30 miles to the city of Moab, entryway into the Arches and Canyonland National Parks. Once we hit 91 south, the winds were so strong we almost had to pull off the road. I was all over the road so I slowed down to 25 mph for the 30 mile drive into Moab.

The best way to describe Moab is to say it is similar to Sedona, Arizona, which is close to the Grand Canyon. Moab is very small nested right in the middle of very large picturesque red sandstone cliffs. Is only existence is to cater to the thousands of tourist who come to visit the famous National Parks. There are many campgrounds and small motel/hotel to fulfill the tourist needs.

Surprisingly the two most popular campgrounds in the city of Moab were full for the night. We keep calling and lucked out and got a 50 amp spot in Moab Valley RV Campground near the south edge of town for the night. The campground is located across the main street from a intimidating 250í wall or mountain of red sandstone cliffs with some type of cable car lift going to the top. Tomorrow we will have to move to a new spot.

After we parked and setup up for the evening, the kids enjoyed the evening playing checkers and chess with some new friends from the campground on a giant outdoor board built on the ground with 2X2 square foot squares. This gave me a little down time to reflect on todayís activities and help Tonya set up the outdoor grill to cook hamburgers for the evening. I fixed a very large Bacardi and coke and kicked back and worked on my notebook. The wind was still so strong we had to move a picnic table to the front of the RV to block the wind so the fire would stay lit. It is so nice to be out of the cold weather from the Rockies into the warm weather of the flatlands. Now that we are in the semi desert the weather is really nice in the 70ís and 80ís and sunny again. I can only guess how long this will last. Until tomorrow, sleep well my friends.


---
6/15/2010: RV Day 7

Miles Driven: 0

RV Day 7 (Morning thoughts!) As I sit here at 7:00am in this 34 degree weather seeing every breath I exhale, I look up and see why so many people call this place home. I know that I have not seen through my eyes what Ansel Adams must have seen through his eyes while he was photographing Yosemite in the 1920ís, but this morningís views is surly as close as I will ever get, as I sit here looking up at the tall majestic snow capped mountain peaks against the dark blue early morning sky. The early morning sun, which has yet to hit our camp site, proudly displays the white jagged snow peaks for the world to see.

One can only imagine what the westward bound early settlers must have seen or experienced in the mid 1800ís as they struggled to conquer these rugged mountain roads in a canvas wagon, pulled by eight strong oxen. As these brave immigrants valiantly attempt to reach California or Oregon to live the American dream, they also were fortunate enough to experience the Rockies when it was truly pristine, as nature had first designed it. Try to imagine; no automobiles, no paved roads, no street lights, no houses or buildings or ski lifts to block or encumber the natural landscape. Food for these early travelers would have been plentiful as brown bears, big horn sheep, mule deer, elk, moose and wolves would have roamed the mountains freely. To survive this five month journey they would have to learn to conquer the harsh weather conditions. However, for those brave souls who did reach their final destination, it would have been one hell of a family story to pass on down to the generation of kids.

OK, reality check, its 8:30ÖÖtime to go wake the family up and get his day started on Day 7 of our cross country adventure. More to come later onÖ.

The first thing the kids did after breakfast was to head to the large indoor saltwater heated pool. I canít blame them for that as it has been real lousy weather the last few days.

We all decided to take the ďFree Bus ServiceĒ provided by Breckenridge, from Tiger Run RV Resort to the city of Breckenridge to take in the town. Tonya says it a short walk to the bus stop and a 6 minute bus ride to the city. Why I constantly fall for her repeatedly gross miscalculations of time and distance is beyond me. An hour later we finally arrive on Main Street in Downtown Breckenridge. As we walked down Main Street we ran into our friends from California who we meet at the Canon City KOA several days ago. How strange is that? They had just finished having lunch at Ericís a popular local eatery located downstairs at 111 Main Street. The food was abundant and simply magnificent and it was reasonably priced considering the area. They served all the American cuisine that We scoured the upper part of the shopping district for several hours before we headed back to the bus terminal to take us back to the Tiger Run RV resort. On the way back we stopped at the Recreation center long enough for me to give Jonathan a few lessons on how to play table tennis. He always gets angry when he gets beat in any game, especially by me.

Breckenridge is a small skiing community nested in the foothills of the Rockies six miles south of Hwy 70W on Hwy 9. It has an elevation of 9,603 feet above sea level and has a 2000 population of 2,408. Its average snowfall is 163 inches per year making it one of the most desired ski destinations in the world. Breckenridge was first founded as a gold mining town in 1859 by General George E Spencer who promptly named the city after then Vice-President John C. Breckinridge. After John C. Breckinridge joined the Confederate army during the civil war, the angry Pro-Uniontown residents changed the first I to an e to its current name of Breckenridge. The downtown still has the old western atmosphere. The street are lined with hundreds small tourist shops dotted with a few diners and a few art stores . The buildings have maintained their old western charm design while displaying contemporary colors. You will find all your regular tourist brand of stores with a few local flavor stores mixed in. I wasnít that impressed with the city considering it is a well known and world famous destination city. But you cannot deny the majestic beauty of the Rockies.

Anyway itís time to call it another fine day as the weather was just perfect. Tomorrow we are going to continue our journey over the Rockies through another famous ski resort, Vail and then on to Avon, Eagle, Gypsum, Rifle and finally on to Junction City which is the last major city in Colorado. I might make a major change of plans tomorrow, but at this time I have not discussed it with the rest of the crew. Until tomorrow, sleep well.


---
6/14/2010: RV Day 6

Miles Driven: 125

RV Day 6 As usual I got up at 7:05am and wrapped myself up in all the new expensive clothes I just bought at Wallyworld yesterday in Canon City and walked outside to write in my journal. I looked for a bench to sit down and write in my journal and low and behold the sun was up and it was warm. What the hell is going on with this weather? As I sat down in the warm early morning sun with my coffee in hand I turned around and there was a large white rabbit sitting about 3 or 4 feet away from me looking at me looking at himÖ.or her. Is this a sign of God that he is giving me a break? I could really use it as we are headed over the Rocky Mountains today. I told my kids about this white rabbit later on in the day and of course they didnít believe me. Why should they, Iím only their Dad?

Have you ever seen the movie ďMy Cousin VinneyĒ where Joe Pesci is awakened early in the morning by a loud high-pitched horn as a freight train rushes by? Little did we know that our KOA camp was located right by a train track? Around, or should I say at exactly 7:05am this loud train horn rattles our RV as it makes its presence known by a loud horn to anyone within Ĺ mile. It was almost comical.

At 8:00 when the KOA office opened up I went in to get a cup of coffee and this lady who was waiting on me ask, ďWhere you here Friday evening?Ē I said no we were in Canon City. She commenced to tell me about a tornado that passed within 2 miles east of the campground on Friday evening. According to her, the clouds got real dark and a warning siren went off. People came out of their RVís to see what it was about and a tornado was spotted to the east. As the winds picked up, goofball sized hail started pelting all the RVís and the campground. Some people ran into the office with their pets and others took cover into their RVís as it passed by. I spoke to an older gentleman two spaces down and he told me that he grabbed his grandson and ran into his 36 foot 5th wheel and laid on the floor and prayed. I looked around and saw some of the RVís that had the tops of them covered with blue tarps. There were tree leaves and branches scattered around the campground. I saw his truck that had broken windows and hundreds of small hail dents. The KOA gazeboís roof had many holes in the Plexiglas roof. I guess there someone was looking over us as I had wanted to leave our last KOA site early because it was raining all day. Iím so glad we decided to stay for another night.

Well the family finally woke up at 8:45 and we got everyone feed and dressed and proceeded to disconnect the RV and head out on the road via 70W to Denver and up into the Rockies. For someone who has never really experienced the sheer beauty of the almighty Rocky Mountains early in the morning with the low hanging clouds, I was in for a real treat. We climbed up to over 10,000 feet pretty quick as the fog sit upon us. It was raining lightly and you could hear the big rigís engines roaring as they fought inertia to climb Mother Natureís awe inspiring mountains. The snow capped mountains loomed in front of us as we got in line behind the Truckers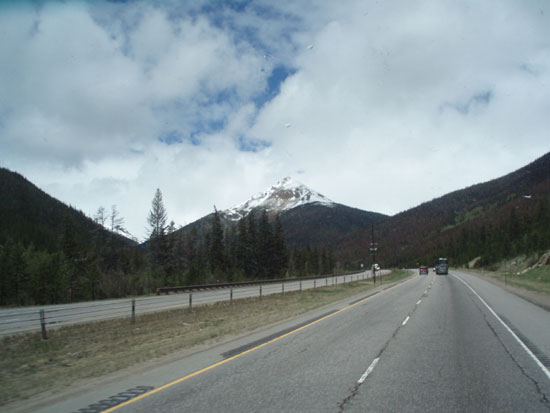 (Headed into the Rockies from Denver.)>



It was slow going up the mountains but we were in no hurry as we soaked in this new experience. Weíve been all over the United States over the last 5 years and have traveled the Smoky and Appalachian Mountains many times, but they do not compare to the sheer beauty of the snow covered Rockies.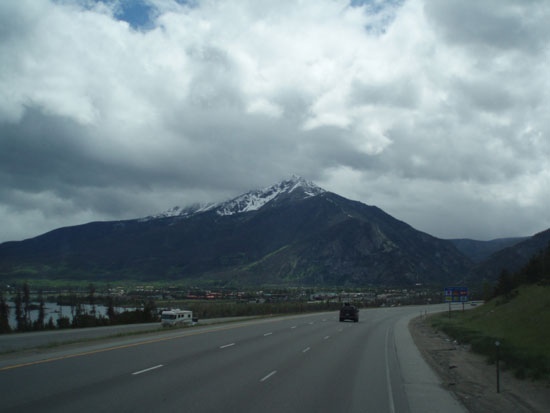 (Rocky Mountain High, Colorado!)



When we passed through the Eisenhower Tunnel we proceeded to descend down at a very steep grade into the city Silverthorne, Colorado. The grad was so steep I had to set into low gear, but I still had to constantly use my brakes all the way down. You could smell the brakes smoking inside the RV.

There was road sign telling drivers to pull over to let their brakes cool down. That is exactly what I did as I pulled off the freeway into an Outlet Mall parking lot in Silverthorne. It was a big mistake pulling into an Outlet Mall. What was I thinking? Tonya, as most women will, immediately jumps out of the RV at lightning speed and did what comes natural to women, she went shopping.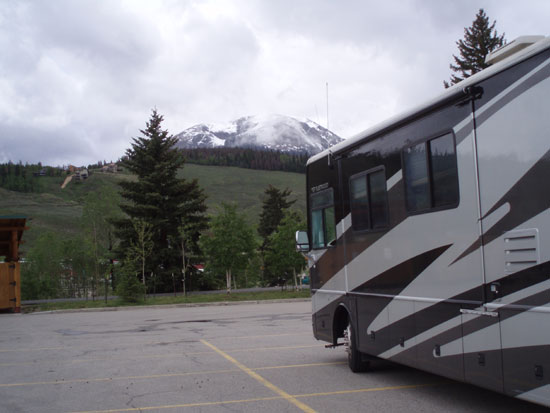 (Sitting in the parking lot of the Outlet Mall in Silverthorn, Colorado.)



As I sat there in the RV with the kids, admiring the magnificent scenery I started thinking how often we would ever get the chance to camp in the Rockies. I looked into Tonyaís 2008, 6 inch thick, ďTrailer Life DirectoryĒ under Breckenridge campgrounds. There was only in Breckenridge and it was called Tiger Run Resorts. I discussed this with Tonya and we decided to call and make reservations for a couple of days. Before we checked in I drove the RV through downtown Breckenridge to check it out. We checked in at Tiger Run RV Resorts around 3:00.

Let me tell you, this was the most incredible campground Iíve ever experienced. Weíve stayed at over 250 campgrounds over the years, but nothing compares to this. This place caters to only big expensive rigs and has a lot of very nice private owned cabins with their expensive toys in the driveways.. We have a real nice RV, but ours was nothing compared to the others here at this site. I could go on for an hour describing this place, but time does not permit. You just need to check out their website to really appreciate this place. Their website is www.tigerrunresorts.com. I will describe it in detail in tomorrowís post.

Anyway after we did the routine RV setup, Tonya took the kids to the indoor saltwater pool and I got a chance to catch up on my RV trip blogging. I fixed a very large and strong Bacardi and coke drink and sat down at my notebook to record todayís activities. Naturally it started raining again.

Well itís after 9:00pm, and Tonya has prepared a wonderful meatloaf dinner with corn, mashed potatoes with brown gravy for tonightís meal. Heck we donít eat this well at home. When I get back home Iím going to pull the RV up next to the house and have dinner in the RV every night. We are all going to sit around tonight and watch cable TV or a Movie and discuss todayís adventure.

Since tomorrow is a non travel day, the kids can stay up as late as they want. Last night was my movie night so tonight is Madelynís movie night. Last night we watched Indiana Jones, The Kingdom of the Crystal Skull. Folks tonightís Feature movie will be Tooth Fairy with the Rock Johnson. So grab your cocktail and popcorn and get comfortable. Iíll talk with yaíll tomorrow.


---
6/13/2010: RV day 5

Miles Driven: 193

RV Day 5 It rained all last night and there is a thunderstorm cloud hanging over all central Colorado. I got up at 7:00 this morning with Nathan to a dreary overcast day. We are supposed to leave and head toward Denver on 25N. However I first wanted to first take the family to the Royal Gorge Bridge and actually walk across it. Once again we got a late start and got on the road at 10:45. We arrived at the entrance and found a place to park the rig in the back. The cost to enter is $25 per adult and $19 per kid. The fee includes all activities.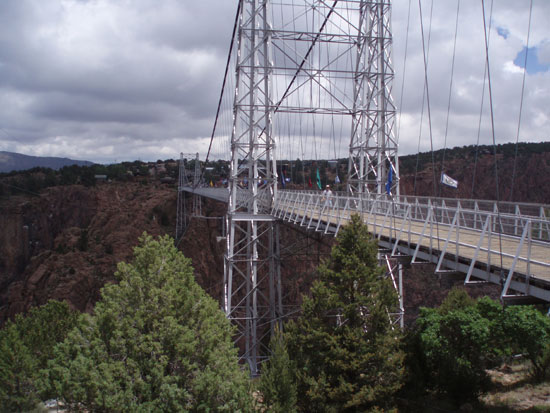 (The Royal Gorge Bridge)



The Royal Gorge Bridge is only 4 miles from the KOA campground down a winding uphill road. The Royal Gorge Bridge was built in 1929 at a cost of just over $350,000. It was partially refurbished in 1980 at a cost of around $3 million dollars. It is 1,053 feet from the top of the bridge arch to the Arkansas River at the bottom of the gorge and is 18 feet wide.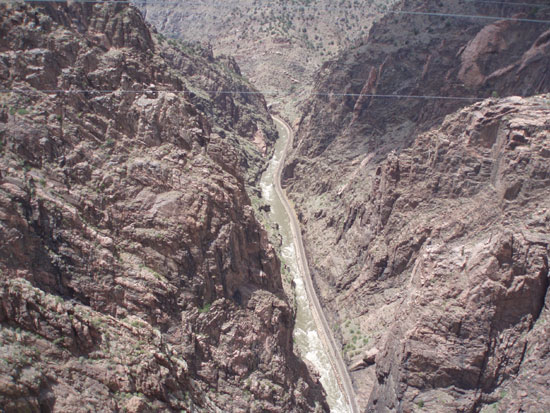 (Looking down 1,053 feet from the Royal Gorge Bridge, )



It has a span of 1,250 feet from cliff to cliff and when it was built it was the highest and longest single span bridge in the world. It is quite impressive to walk or drive across, especially with the wind blowing and the bridge itself sways back and forth. There is a 4 Ĺ Ďtall metal railing with mesh see through wire on both sides to keep you from falling over the sides. The road part of the bridge is made of wood which has Ĺí to 1í spacing in between the planks. Yes you can see the river at the bottom of the gorge between the cracks 1,000í below as you gently walk over it.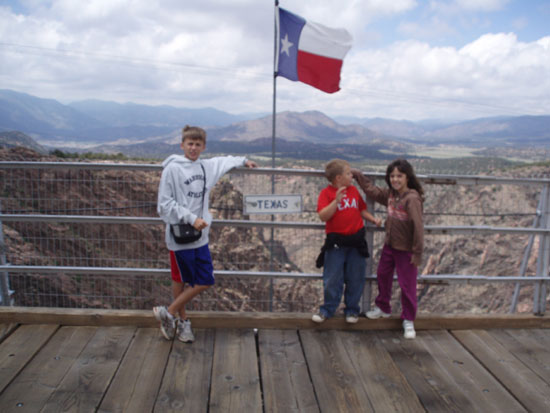 (Jonathan, Nathan and Madelyn on the Royal Gorge Bridge. Notice the Texas Flag.)



The cars and pedestrians share the road at the same time as there are no sidewalks. You can feel the wood squeak and bend as the cars pass by you. You can visibly see new planks as one fourth of the wooden planks on the road are replaced each year due to wear and tear. Itís pretty eerie. Once you cross the bridge there are your typical tourist shops and diners. If you can believe it, there was a wedding taking place across the bridge while we were there.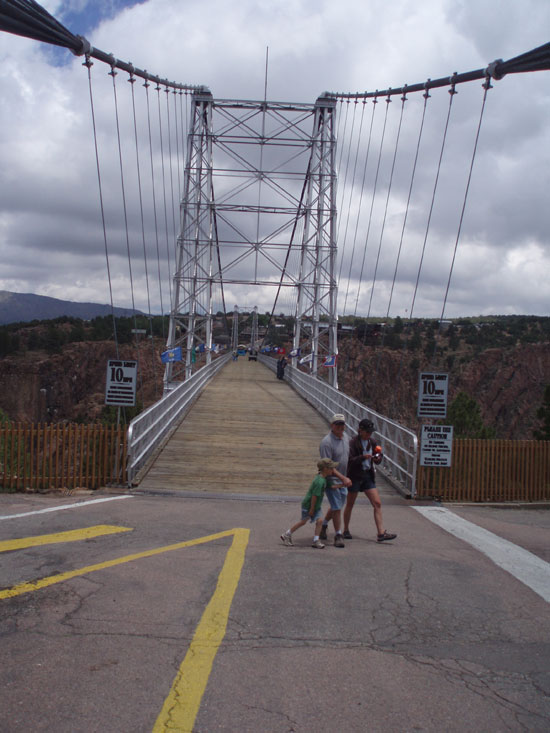 (Looking down the middle of the Royal Gorge Bridge)



After we did the bridge crossing both ways, we then took the inclined railway to the bottom of the gorge and back up. That is one of the strangest rides Iíve ever done. This inclined Railroad consist of 5 or 6 wire mesh stand up cages welded together and each cage holds 4 to 5 people. The cages ride on rails that go at an angle from the top to the bottom. You get off, walk around for 4 or 5 minutes and get in line to go back up. The ride takes about 5 minutes each way. To me it was cool but not very interesting.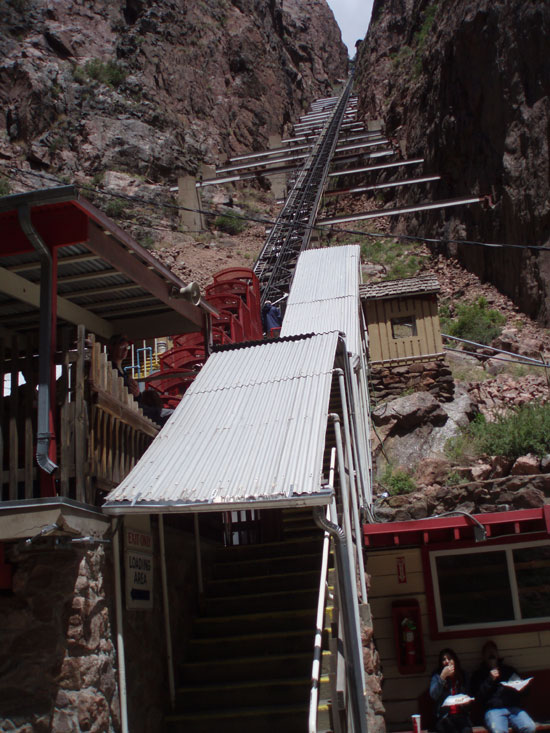 (The Inclined Rail Road from the bottom of the Gorge looking up.)



After 3 Ĺ hours we left and headed back to 25N to Denver. I love Colorado as it is one of my favorite states to visit, I just hate that it is raining all the time. We stopped once again at Wallyworld in Canon to get some cold weather clothes as I was tired of freezing my butt off. For one of the rare times, I should have listened to Tonya before we left about taking some cold weather clothes. If you read this, donít tell her I said so. On the ride on 25N to Denver it started to rain again and rained very hard most of the way. Apparently the kids were worn out from all that walking at the Gorge as they slept the whole way to the new KOA. It was so peaceful and quite for once. At first I thought that we must have left them behind. No fighting or bickering or yelling at each other. Anyway, Tonya found a KOA in Strasburg which is on 70E about 26 miles east of Denver. It was in the wrong direction but what the hell, were in no hurry. The ride from Denver to Strasburg featured completely flat plowed up fields that had some type of crop in them. I wish they would label the fields for dummies like me to identify. But if they did, I couldnít lie to the kids anymore! The gorgeous mountains were to our rear towards Denver. We finally got to the campground around 8:00pm just as they were closing. We ordered 2 pizzas and called it a day. So far everone seems to be having a great time. Maybe its because we are going to places that we have never visited before. Tomorrow is going to be one interesting day as we attempt to go completely over the Rockies to Grand Junction through Vail, Breckenridge and several other famous ski resorts. Iím not so sure we can make it in one day. I just pray that here isnít snow on the roads. I donít want to get stuck in between as it is cold a hell and I hate cold weather. Weíll see Östay tuned.


---
6/12/2010: RV Day 4

Miles Driven: 0

RV day 4 Saturday morning we woke up to an overcast, cold and rainy day. We did not pack anything for this kind of cold weather. We packed mostly shorts and tank tops and our crocks. We did not expect to go to a cold weather location. What a surprise, again. It was 45 degrees this morning and windy as I went outside to go to the KOA office to purchase the train tickets. It was expensive as I got our coach tickets upgraded to first class tickets so we could eat our peanut butter and jelly sandwiches in style. We got the KOA attendant o drive us 8 miles to the train depot for a nice tip.

As we boarded the big 10-rail train (photos enclosed) we saw a sign, ďno backpacks or outside food allowed on the trainĒ. Too bad, we were taking our peanut and jelly sandwiches with us. Once we got on board we promptly ordered two very large margaritas and all the expensive junk food we could eat. What the hell, we will have peanut butter and jelly sandwiches for dinner tonight at the RV.

The train ride was a really cool adventure riding along at the bottom of the gorge. You could see all the rafters as we rode alongside the Arkansas River. We passed under the Royal Gorge Bridge that was 1,050 feet above us. The train had a full bar and a snack bar car that you could go to order food or drinks. In the first class section they brought it to you. There was also a cool open car in the middle of the train with no top or sides that you could go to take photos of the mountains and river as we traveled. Over all it was a pleasant 2 hour, 24 mile ride. For $450 it had better be. I would advise anyone going for this train ride, to take the coach seats and go get your own food and drinks; it would be half the price. As we headed back to the RV site it began to storm and rain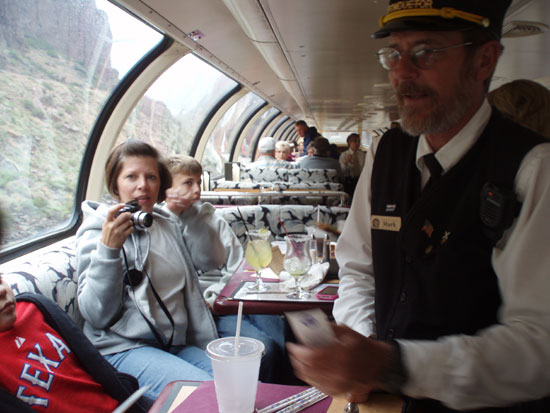 (The Royal Gorge train ride at the bottom of the gorge along the Arkansas River)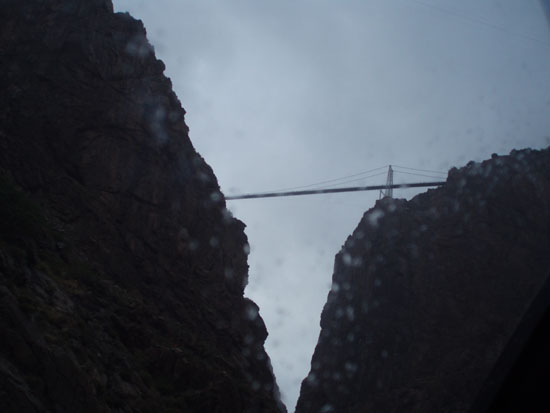 (A view up from the train to the Royal Gorge Bridge)





We were all stuck in the RV the rest of the afternoon as it was simply too cold and wet to go outside. That was fine with me as I need time to rest catch up my blogging report. Tomorrow on our way out I am going to stop at the Royal Gorge Bridge and walk across it, 1,050 feet above the Arkansas River. We havenít decided where we are headed tomorrow as we discovered there is snow at the Rocky Mountain National Park. I donít feel comfortable driving this big rig in snow in the mountains. My cargo is too valuable. Weíll decide tonight what were going to do tomorrow. Tonight was Tonyaís movie night so we all bundled up at dinner and watched Dennis the Menace, the movie. Tomorrow should be a nice day as we will try to get out of this storm.


---
6/12/2010: RV Day 3

Miles Driven: 0

RV day 3 Nathan and I got up at 7:00 and walked around the old rustic western style campground to check it out. This was the original Las Vegas discovered several hundred years before Las Vegas Nevada. This place was a hideout for the old western outlaws. I could visually see old cowboys riding across this red clay badlands with all the small trees and sagebrush rustling by as they looked for a campsite for the night. All the trees or shrubs are only about 4 feet tall and there are plenty of places to hide in the hills. At 8:00 breakfast was being served at the backside of the KOA building. All the old homemade pancakes you could eat for $6. We took about 30 of these large flapjacks back to the RV for breakfastÖfor several days to come.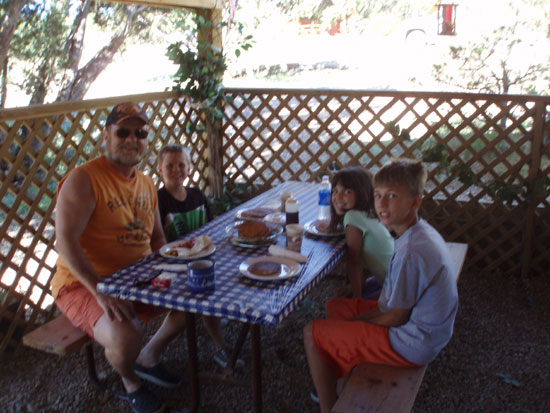 (Breakfast in Vegas...New Mexico style)



We headed out of Las Vegas about 11am and continued on 25N toward Denver. The drive was beautiful with lots of open space with no trees or farm houses as far as the eyes could see. Just open green plains. As we ascended up toward the mountains at around elevation of 5500 feet the grass got greener and trees started to appear. The road was as straight as an arrow just as you would see if you were driving across Arizona or New Mexico. You could see the mountains in the background getting closer as we drove on. It was beautiful.

All of a sudden a dark thunderstorm appeared out of nowhere and it began to rain the largest raindrops Iíve ever seen, then it began to hail. It looked as if a big dark cloud was following us. God was punishing us again with a vengeance. As quick as it came the storm headed to the north of us. When we left Las Vegas I noticed we had about a quarter tank of gas left. This rig holds about 100 gallons of gas and we get about 5.9 MPG. So we started looking for a city somewhere that had a gas station with diesel. We finally found a small one horse town called Wagon Mound, NM and got off the interstate.

The town consisted of a single gas station, which was fine by me. There were about 20 bikers getting gas so we waited our turn, filled up and headed out to beautiful Colorado. We crossed into Colorado and exited in Trinidad to visit our local Wallyworld to re supply for the Mountain trip into Colorado. Wal-Mart is known as a RV friendly place to park your rig and hang out. There were quite a few of them parked in the RV spaces provided by Wal-Mart. We loaded up and decided to go visit an attraction I had seen on TV many times on the Travel Channel. It was called the Royal Gorge Bridge outside Pueblo in a city called Canon Colorado.

We pulled into the KOA in Canon City and decided to stay for two days. It was located 2 miles from the Royal Gorge Bridge sitting at the foothills of the mountains. There was a small diner at the entrance and a large amusement park next door for the kids to play on.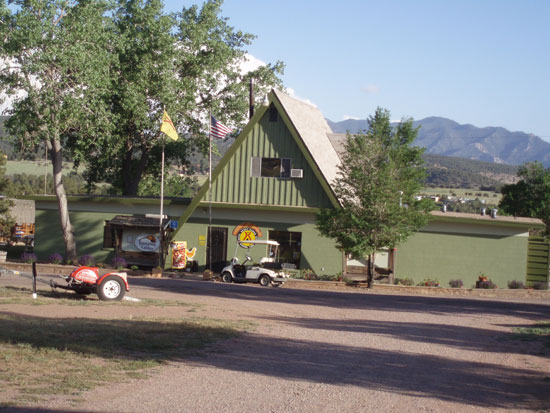 (This is the KOA in Canon City, CO. next to the Royal Gorge Bridge. Check out the foothills of the Rockies.)



The rain clouds were moving in that night so there was a cool lighting show nested in the low lying clouds for all the campers to sit around and watch. We decided to buy tickets for tomorrows train ride. The Thomas looking train follows the Arkansas River at the bottom of the summit passing right under the Royal Gorge Bridge alongside the Arkansas River. That is another story for tomorrow. Anyway we met a new RV neighbor Eric and his wife and his family of three young kids from California. We all went back to the RV as it was Jonathanís night to pick a movie as we ate dinner. Tomorrow is Tonyaís day to pick a movie. This was a nice uneventful day.


---
6/12/2010: RV day 2

Miles Driven: 356

RV Day 2 First off let me say that I cannot send a blog everyday as sometimes we have no internet connection at our location. We have to wait till we move around to get a signal. Day 2 did not start out good. As we were getting ready to leave Amarillo Texas we notice that someone who was playing in the back bed room had accidentally pulled down a six foot section of overhead wooden cabinets that was mounted over our master bed. I tried to call around to some cabinet makers locally to see if I could find someone to fix it, no luck. So we decided to find a Home Depot and do it ourselves. What a major job. It took up three and a half hours and $200 in supplies but we got it done.

Now itís 1:30 in the afternoon and we have traveled only 35 miles. As we left the parking lot we got on 40 west and headed to New Mexico we passed Cadillac Ranch. For those of you who have never heard of Cadillac Ranch it is a display about 5 miles west of Amarillo off of the freeway that has 10 old Cadillacís lined in a row buried on their ends halfway in the ground. Over the years people have stopped by to visit them and have painted them many colors. This is a ritual for many travelers who pass by annually. I have enclosed a photo of them for you to see.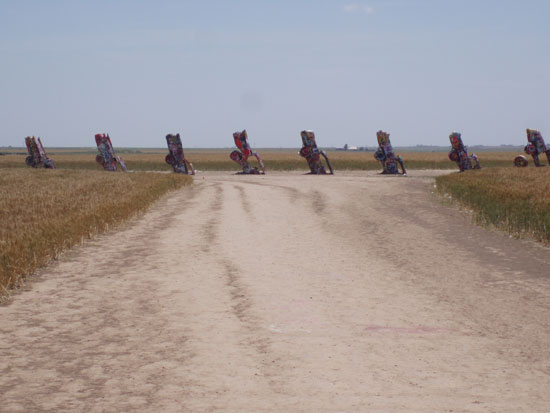 (Cadillac Ranch 6 miles east of Amarillo on 40W)



As we were traveling down the road I noticed that the engine was overheating and the red dash warning light would come on and say the engine was overheating to 225 degrees. I would slow down from our cruising speed of 75MPH to 60MPH and then I would have to pull over on the side of the road for a few minutes to let the engine cool down. What the heck was happening now? We are not making good time and now we are in New Mexico in the desert with only dotted small towns in between small towns. Pulling off the road on a major highway is a dangerous thing to do especially in a 40í RV with semi trailers passing you doing 75MPH. After many stops to cool the engine we limped into s small town called San Jon located about 100 miles inside New Mexico to a shady old run down placed called Terryís Caterpillar and RV repair. Iím thinking here goes $1500 for a rip-off repair as I know nothing about diesel engines. An old man comes out and I explain to him my problem and he tell me to pull around back of his 6 bay big metal building and back up at the last bay next to an old broken down John Deere tractor. With the family in tow I do as he said and waited. What next? Is my thermostat broken and where is it located on the engine and how much time and money? We are literally at his mercy. He comes out to me and say open the back engine door. I open it and he starts power washing my radiator with the engine running. All this road grime that has built up over the last 5 trips is running off the radiator and down the dirt floor. After about 10 minutes Terry says that we are fixed up and ready to go. What, thatís it! He says after 50 years of doing this he knows his business and to give him $40 and get on down the road and donít worry about it. I couldnít pay him quick enough and did as he said and got the hell out of San Jon, New Mexico back on 40W to Albuquerque. After that we never had a problem with the engine overheating.

At this point most of our traveling day is shot. Later we pulled into Santa Rosa onto old Route 66 and took a photo of the old Route 66 Diner.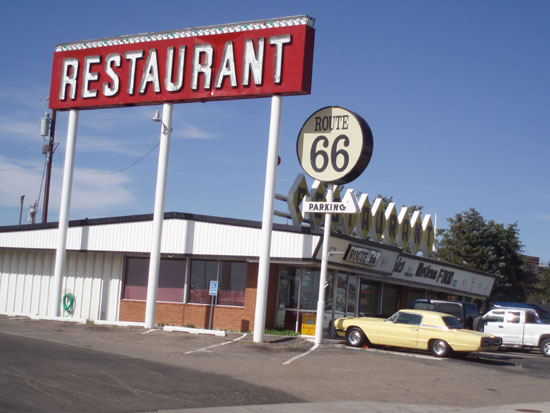 (Route 66 Diner in Santa Rosa, New Mexico)



We decided on a more reliable Dennyís restaurant. Our host whose name was Jesus told us Santa Fe was just up the road a few miles. My 8 year old got a kick out of being waited on by Jesus. It was getting dark so we headed up Hwy 25N toward Santa Fe, New Mexico. Santa Fe is a famous ski resort for the wealthy. We decided we wanted to go to the downtown plaza and see Santa Fe. What a mistake. The roads were very narrow and there were small outdoor restaurants and shops. This place is shopperís delight.

As I stopped the RV at a intersection to let people cross the street a pretty 35 to 40 year old lady approached me from the driver side of the RV, looked up and ask if I was a movie star. I ask her how she knew and she said she was physic. Now I must admit I was looking odd, but a movie star! I told her no but I was a movie producer looking for a production site for a new movie. She said she was an actress who was in Sex and the City, lost Boys and reeled off several other famous movies. Her name was Joan and she was writing on a business card constantly asking me to call her. Meanwhile my wife is sitting next to me with my kids looking out to see how I plan on getting this big rig out of this tight predicament. I could see Tonyaís claws coming out and Iím not going to print what she said about the lady. After about 5 minutes of this lady constantly asking me to call her I finally told her I had to get out of town or I was going to get in trouble. I finally maneuvered the RV to the left to get out of town. The rest of the evening Tonya kept telling me to ask my girlfriend if I needed anything. That was Ok my ego was soaring.

After we left Santa Fe it was late and dark and we did not have a place to camp. We headed 50 miles east to Las Vegas, NM and found a KOA campsite for the night. I hate parking this rig in the dark, but we managed to do so at 10:30 at night. After set up, everyone was tired and ready for bed. It had been a long day. Nathan and I went outside and the view of the nigh stats was incredible. It was as if the heavens had fallen down upon us. You could see all the stars in the Milky Way. We just both stood there looking at the stars and talking about the heavens. What a great way to end the day with my 8 years old son looking at the stars on top of a mountain in New Mexico. The adventure continues tomorrow.


---
6/9/2010: RV Day 1

Miles Driven: 330

We finally hit the road at 1:00pm today after trying to get everything together. It takes about 2 days to load the RV; after all there are 5 of us going on a 55 to 60 day road trip. Our first official stop was for diesel for the RV. Our RV holds 100 gallons and we were near empty. Out of Dallas we headed North West on US 35N to 380W and finally to 287 toward Amarillo, TX. Hwy 287 is a long and hot drive dotted with a lot of small western style towns. There are hundreds of small one-stop light towns in West Texas. Most of the structures in the small towns were built around the turn of the 19th century and are boarded up or in need of repair. We have to slow down going through these small towns causing us to average about 50MPH overall, although I set the cruise control on 75MPH when we are on the road.

It was pretty much an uneventful day for sightseeing or activities. We counted the railroad cars as trains passed us. The kids take turns sitting on the dash for the best view of the road. Sometimes the kids watch TV or play video games on the Xbox 360 as we travel through the desert. Itís a real rough life for them.

There is not much to see in West Texas but the occasional ranch spread out on the vast flat plains between small towns. Tomorrow will be much better adventure as we leave Texas and head to beautiful Northern Colorado via New Mexico. My game plan is to head to the Rocky Mountain National Park which is the mouth of the Colorado River and follow it all the way down to Lake Mead in Nevada. We will be visiting 7 or 8 National Parks on the way down. But that is another story.

It is late and the kids are tired (from what?) and ready to go to bed. I will try to download pictures on tomorrows post. Tomorrow will be a longer and more productive day. It should also be a much better drive as the terrain changes greatly as we go north. Tonya prepared a beautiful taco dinner for tonight. It was great and easy to prepare. Yours truly did the dishes and clean-up. We ended up camping in a place called Overnight Camping RV Park. What a truly original name for this place. The owner must have been a bored when he named this place. Until tomorrow, sleep well my friend.


---
6/8/2010: Day 0

Miles Driven: 0

Well it is time for our 6th annual Family RV road trip around the USA. I thought it would be fun if other family members, friends and some of my clients could follow our big adventure around the USA. I ask Brandon to put this link on our website so I could keep people abreast of the trip. We generally are gone 45 to 60 days and travel for 5,000 to 7,500 miles visiting some of the most interesting National Parks and National Monuments across America. In the last 5 years we have visited camped in 46 and of the lower 48 states. We have only missed Utah and North Dakota. We will cover them this year. Along with me is my wife Tonya, 8 year-old twins: Madelyn and Nathan and my soon to be 13 year-old son Jonathan, or John Jr as he likes to be called. This is our 6th major RV road trip around the USA so we are somewhat veteran RVers. We are traveling in a 2005 40 foot Fleetwood Excursion RV. It has 3 slide-outs and a 350 CAT Diesel pusher engine.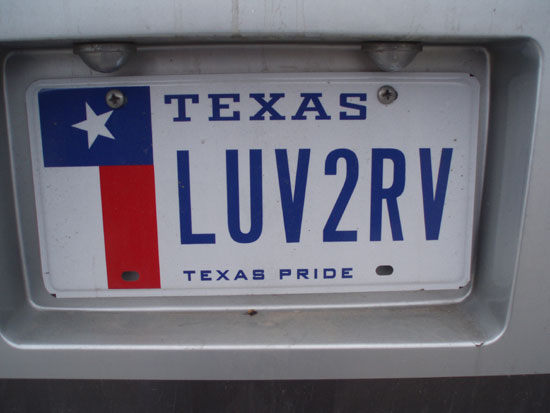 (Our Traveling Motto!)



It is fully loaded so you can say we are creatures of comfort. This year we are headed west via 40 west to start with. At some point we will head north up to Colorado to find the starting point of the Mighty Colorado River. I will fill you in as we go and I will also post some cool photos of the areas we visit. I invite you to come along and enjoy the trip with us as it will be filled with a lot of adventure and excitement.


---
6/6/2010: Road Trip 2010 Begins on Wed, June 9th, 2010

Miles Driven: 0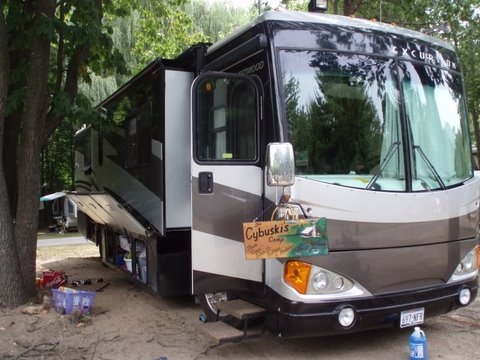 (Our RV)
---