Need to contact us quickly? Send us an email by Clicking Here.


Click Here to view all of the currency that we've sold since the website was launched in January 2010.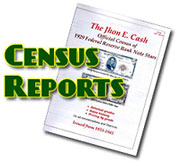 -1929 FRBN Star Notes
-$500 / $1,000 Star Notes
-$5,000 / $10,000 Notes





If you want to chat with other collectors and dealers, visit the Collectors Universe Currency Forum
The Bureau of Engraving and Printing's (BEP) takes you to the official government site of the BEP for some interesting information and facts on all of our US currency.
US Papermoney will take you to a site that is full of information on everything you ever wanted to know about our US currency. Almost everything anyway. Very cool site!
The American Numismatics Association (ANA) is a professional organization for those who want to further learn about US coins and currency.
PMG and PCGS are the only two TRUE independent currency-grading services available. I highly recommend these two companies for those of you who want to get their currency certified and graded for insurance purposes or simply, a peace of mind.

Fr.-1930* 2003 $1 New York (Solid serial # Star) PCGS-67PPQ Serial # B11111111*
(Open Original Image in New Window)
(Open Original Image in New Window)

Price: $19,500.00
THE "KING OF ALL SOLID SERIAL NUMBERED STARS". This 2003A $1 FRN is one of only three solid serial numbered stars. I do believe the others are solid twos. I chased this particular note for over 4 years until I finally landed it at a fall Baltimore show from a gentleman who owned it with his cousin. He finally sold it to me when I made him an offer he couldnt refuse. This very note sold for $23,000 in a past auction. It has been in the Jhon E Cash private collection since then. It is now being offered to the fancy Serial Numbers collectors market. This rare note is not for the timid collector but it is destined for the serious advanced collector who desires a real star note rarity. Afterall...there are only 4 known. How I wish this was a coin so I could add a zero or two to the selling price.
This Note Has Been Viewed 4336 Times

Call 1-214-769-9936 for Jhon
Email jhon@jhonecash.com for Jhon
If you are having trouble viewing the images above, please install the Active X control (Adobe Flash Player) that pops down from the URL bar in your browser.